Bedding Basics // How to Build a Better Bed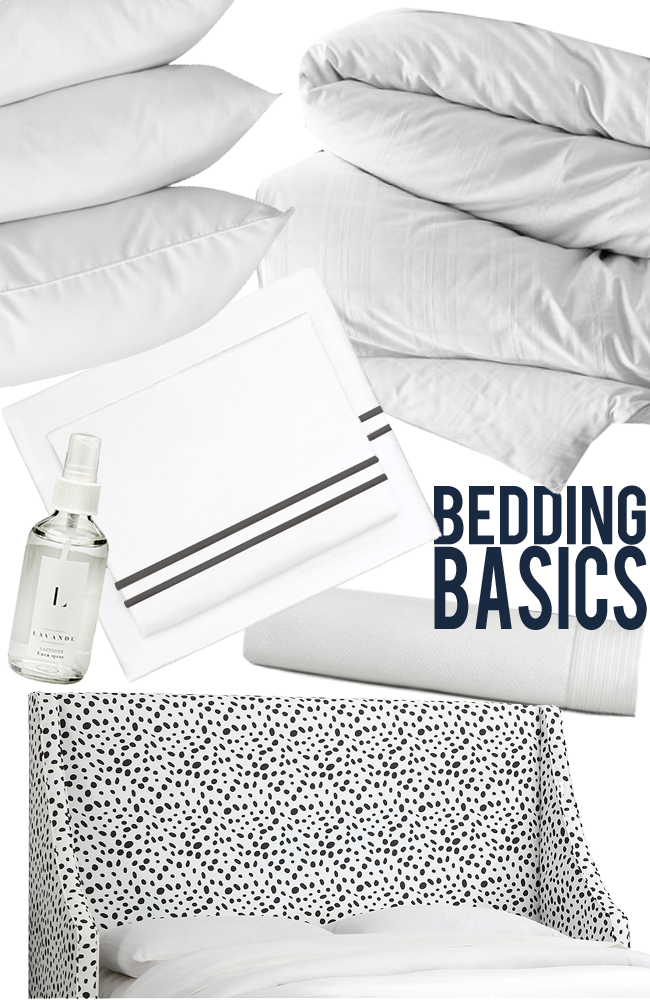 Holy first week of school…. our lesson learned?! Sleep is very important!! Our little girl has always been a night owl. Always the last kid to go to bed & always the last to get up in the morning. Mostly in part to the fact that my husband is in the restaurant industry & we would keep her up in the evening so they would get to spend some time together before bed. We were concerned about this new schedule change, convinced there was no way she would be in bed early enough. Luckily, she realized how tired she was & has even requested to go to bed earlier than our original goal. And quite honestly, after dealing with getting everyone up & out the door & then dealing with carpool (woah… btw) I am ready for bed just about as early as Chloe is. Not gonna lie.
One of my favorite parts of the day is finally collapsing into bed. Having the bed envelop me & snuggling into the blankets. And there is just something about getting into a freshly made bed that makes the experience even more enjoyable. I'm not sure if it my hotel design background, but I constantly look at our bed as if it were in a luxurious hotel & address it as such. Creating a good foundation to your own bed can really change the way your own bed feels. So here are a few of my tips on Bedding Basics & creating your own dream bed experience.
1 // Start off with the best mattress possible. You spend a good majority of your life in bed, so like your sofa, this should be an investment. You can layer the most beautiful bedding on a bad mattress & it's still a bad mattress. We recently invested in a new memory foam pillow top mattress & I am blown away by how much better we are sleeping.
If you aren't in the market for a new mattress for a few years, a thick mattress pad on top of your existing mattress can make a big difference as well.
2 // Layer on your sheets. A fitted sheet is your next addition to your bed, but purchasing sheets can be overwhelming. And I have some news for you I learned a while back… the higher the thread count may not mean a better sheet. What?!!! Yes, over the years we have been taught to look for the highest thread count possible, but the issue with that is manufacturers are using lower quality fibers to create some of these higher thread counts resulting in a stiffer or scratchy sheet that has a quicker tendency to pill.
Instead of focusing strictly on the Thread Count number, focus on the fibers. Longer fibers are going to break less resulting in less pilling. Look for terms like Egyptian Cotton, Pima, Organic Cotton & Bamboo. The weave of the sheets also play into the feel. A Percale weave is going to produce a cooler sleeping experience, where Sateen is going to help retain some warmth.
3 // Try a Matelasse Coverlet. In nearly every catalog or magazine bedroom shoot, a coverlet is present on the bed. It does make for a beautifully made bed, but in the warmer months, the quilt provides you a cooler option than your duvet or comforter.
4 // Duvet time. While both Down & Down alternative are present on the market, one of the benefits of down is that it is better at regulating heat. So if you are a hot sleeper, down may be your best option. One of the key factors to look at when buying a down is the fill power. This number is basically your fluff factor… a 500 Fill Power is going to be better for a more hot natured sleeper, where 600 is great for cooler climates.
If allergies are an issue & you are going for the alternative my best tip is to unzip the package in store & rub the insert between your fingers, sounds odd I know. You are looking for a slick or extremely smooth feel. This means that the mad made fibers are not going to clump up as much over time creating a longer life for your comforter.
Also, if you feel like your duvet never looks as good as the catalogs & magazines, you aren't crazy. A lot of these shoots layer in at least two inserts within the cover to create the luxe look… I have found that if you are looking for a more plush look, you can usually go up a size with your insert, just like when filling decorative pillow covers.
5 // Pile on the pillows. Purchasing pillows is very similar to the duvet insert, but when it comes to pillows, I like having options. My favorite thing about visiting a hotel are the multitude of pillows & the range of softness. On our bed at home we have both a firmer & softer pillow on our bed which helps to create a custom sleeping experience. Sometimes a softer pillow fits the bill, where other times I need a little more support.
If you aren't looking to add more pillows to your own bed, think about adding a few options to your guest room. Your guests will thank you.
6 // Linen Spray. Everyday after I make the bed, I mist the bedding with a fresh linen spray. This instantly freshens the bedding & is a wonderful unexpected touch to great you at bedtime. Crisp clean sheets are obviously the best, but for the in between days, I highly recommend a linen spray.
I have also started misting my daughter's sheets with a lavender spray to help her fall to sleep a little easier… anything to help, right?!