Making the Most of a Small Closet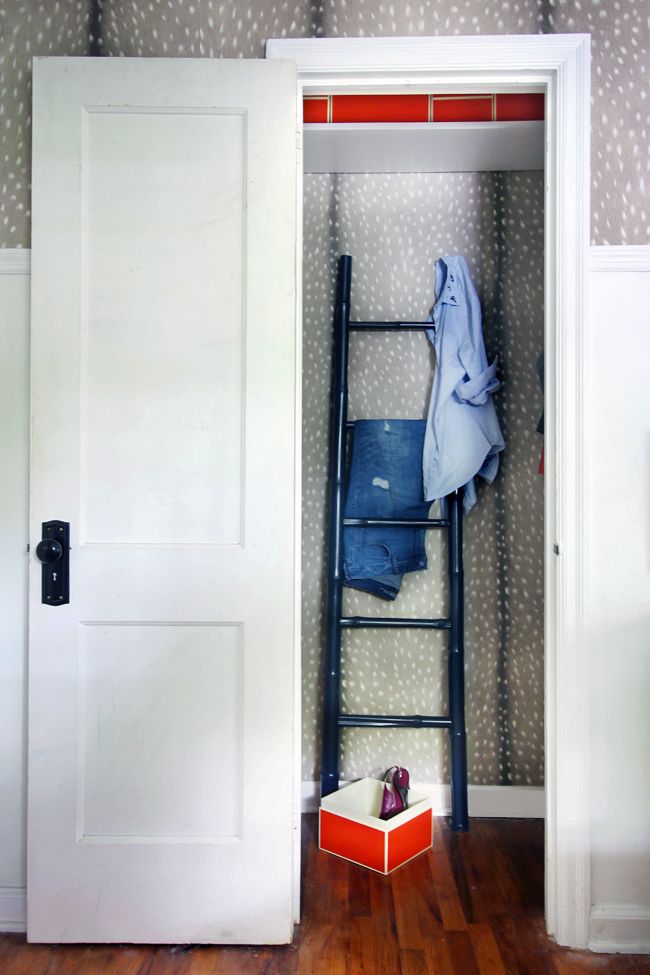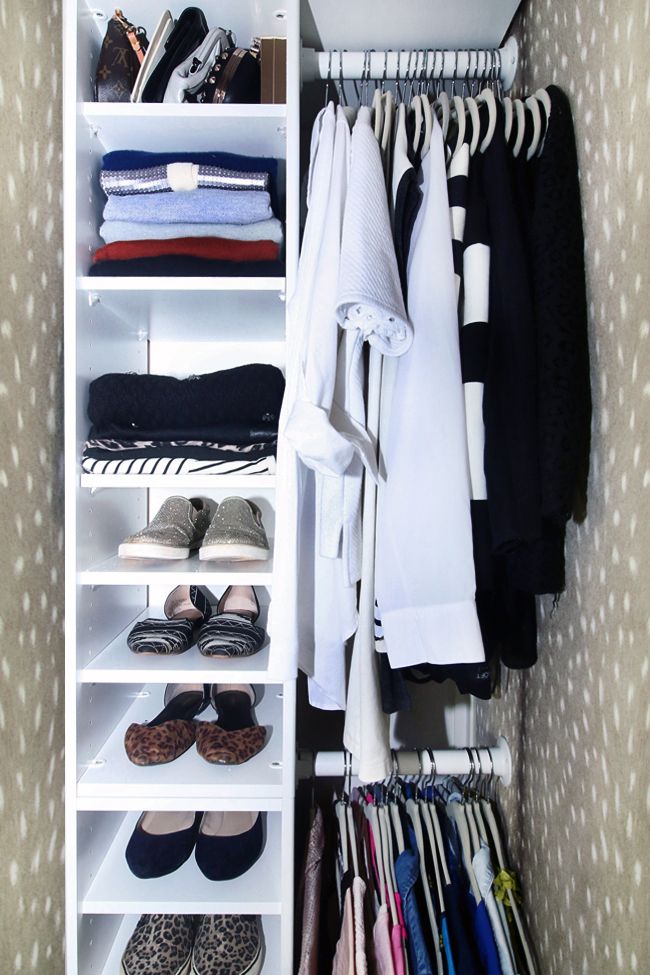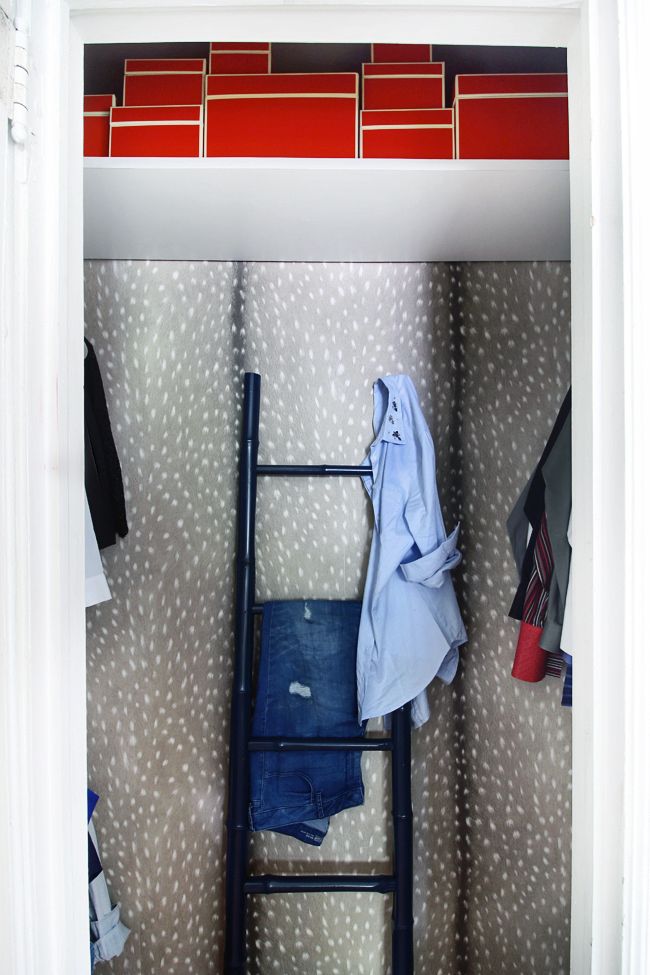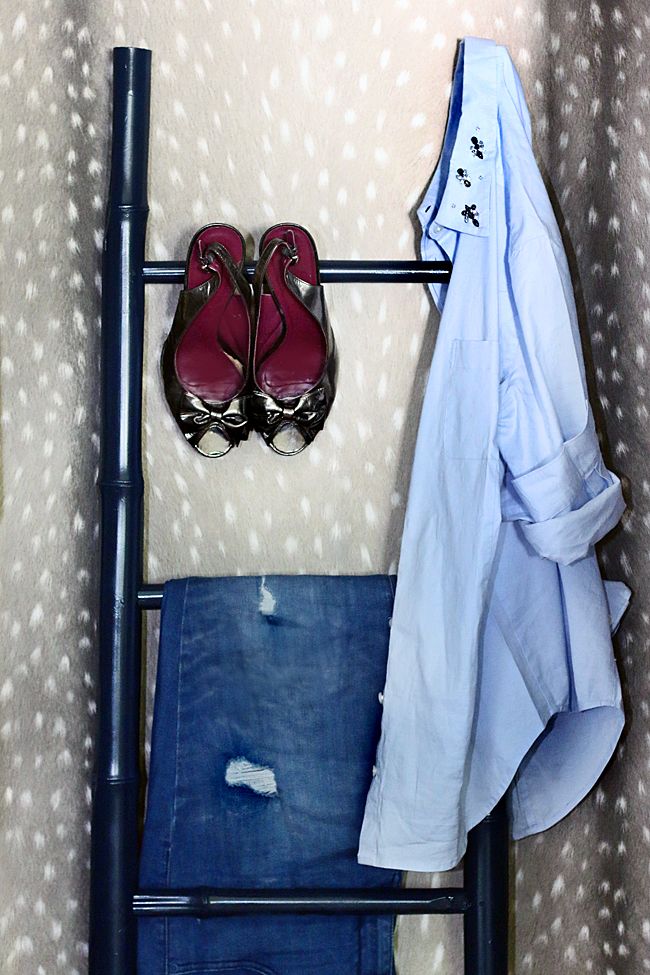 Living in a small home generally means you are blessed with small closets. This has been our experience. Our "Master Closet" and I laugh as I even type those words, is too tight to be a reach in closet & I suppose it is technically a walk in?! Yeah… not sure how to clarify it. But I wanted to share that no matter what size closet you are living with, you can always do something to make it a little more stylish… and functional of course!
Our little closet is only 23″ deep & 85″ wide. Normally I would install a rod system on the longest wall, however our 23″wide single door leaves the ends of the closet as a virtual black hole. There is no way to see in that space to actually be functional. So, my husband & I (yes, both of our wardrobes are in here!) each have a 23″wide side of the closet. To make it as functional as possible, I installed some vertical storage. I used
two of these vertical units
stacked, to create a narrow tower of storage. This solved a few issues… it provided shoe storage (that actually fits my husband's shoes… most were not large enough) & allowed for folding storage as well. Great for pants, skirts & sweaters.
I added two stacked clothing rods in between the shelves & the wall. They are only 12″ each, but we are working with what we have. To utilize as much of those 12″ as possible, I ordered these
ultra slim hangers
. Switching from wooden hangers to these, I was able to double the amount of hanging clothes in our space. So while I love a good wooden hanger, if you are tight on space I definitely suggest making the switch!
We also decided to replace the wire shelving rack that was haphazardly installed & replace it with a solid shelf. We cut one to size using laminated MDF from Home Depot. Most of the items stored up there are sentimental items, photos, paper work and are not necessarily needed frequently. By placing them in these
Orange Nesting Boxes
they are all kept tidy without being a visual mess. I have a note written on the top of each box with the contents if I need a quick reminder.
I also brought my bamboo ladder into the space as well. It is narrow enough to still allow us to actually walk in the space & it allows for me to prep an important outfit or store my favorite jeans so they are ready when I am!
The biggest upgrade came from the
wallpaper
I had left over from the bedroom install. I had just enough runs left & was shocked at how fast it went up in such a small space!
While I hope you are dealing with a larger space… there is no reason why any area of your home can't have a little style & function.
xo – Kristin