Brass Door Details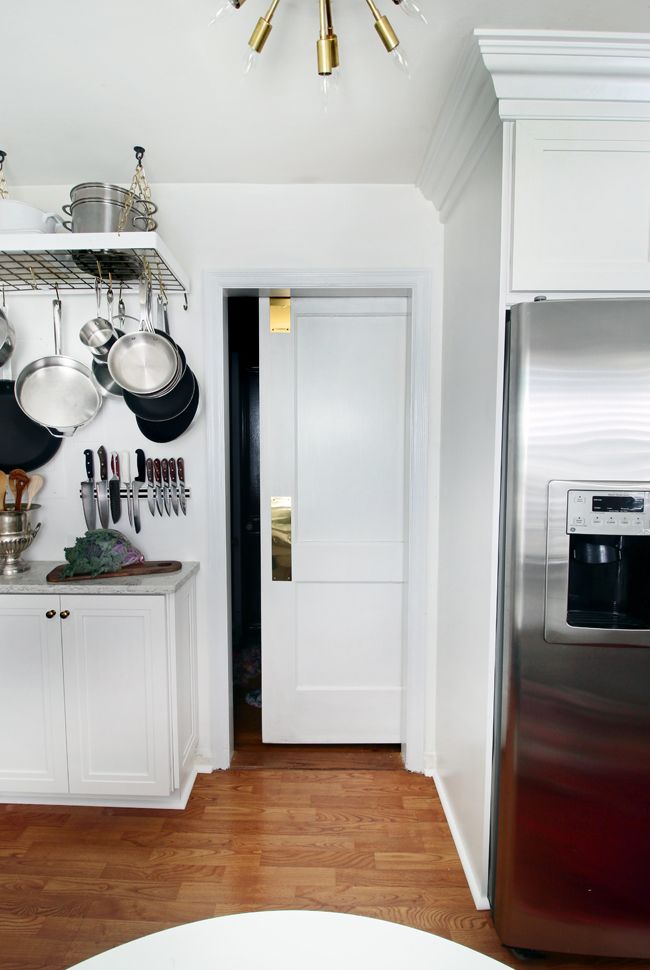 I just realized I never shared the details about our sliding barn door hardware solution on the Kitchen side… If you remember, we installed the sliding barn door in our daughter's room last year. This is what it looks like on her side //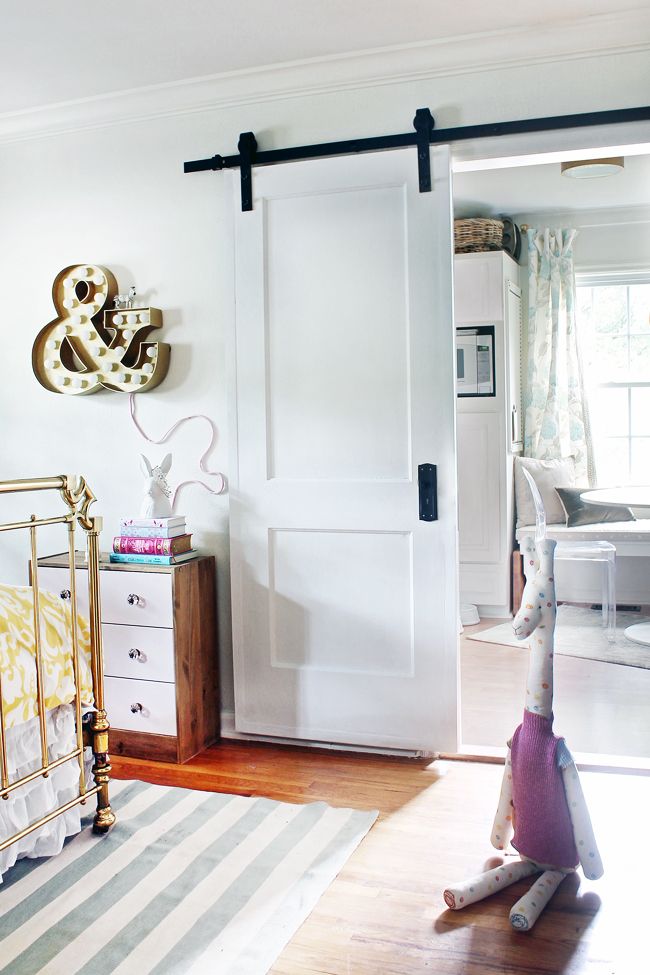 The sliding door hardware required two holes for each top bracket to go through the door. These were countersunk on the opposite side to allow the door to slide without interfering with the existing door frame. It worked really well, but left the holes visible on the kitchen side of the door. The same with the door knob. We couldn't install a knob on the kitchen side as the door wouldn't slide open… so I had to come up with a flush solution to mask the multiple holes on the opposite side.
After combing through multiple hardware sites online as well as the aisles of Home Depot, I decided that I would give a
standard polished brass door push plate
a try. At $12 it wouldn't be a disaster if it wasn't a success. I bought two, knowing that the plate for the door knob hole would definitely work, but the top holes were a gamble.
I took the second plate and bent it in half a few times & it broke in half rather easily. There is probably a better solution for this, but I was being impatient & was on a mission! The edges were a little rough, but they are tucked up behind the wall & are never seen. I'd probably recommend using tin snips or a saw with a metal blade if I were to do this again. I used the manufactured finished edges as the exposed edge & simply screwed them into the door keeping the first one aligned with the push plate & then simply mirrored the second one (which isn't shown… but it's there!) I was so pleased with how chic this $24 solution looked! It has a bit of a campaign feel, which I love.
Obviously these plates are intended for swing doors, but they are perfectly suited for this solution as well. Just another example of keeping an open mind when hunting for hardware!
Happy Wednesday!
xo – Kristin