New Desk + New Art + New Attitude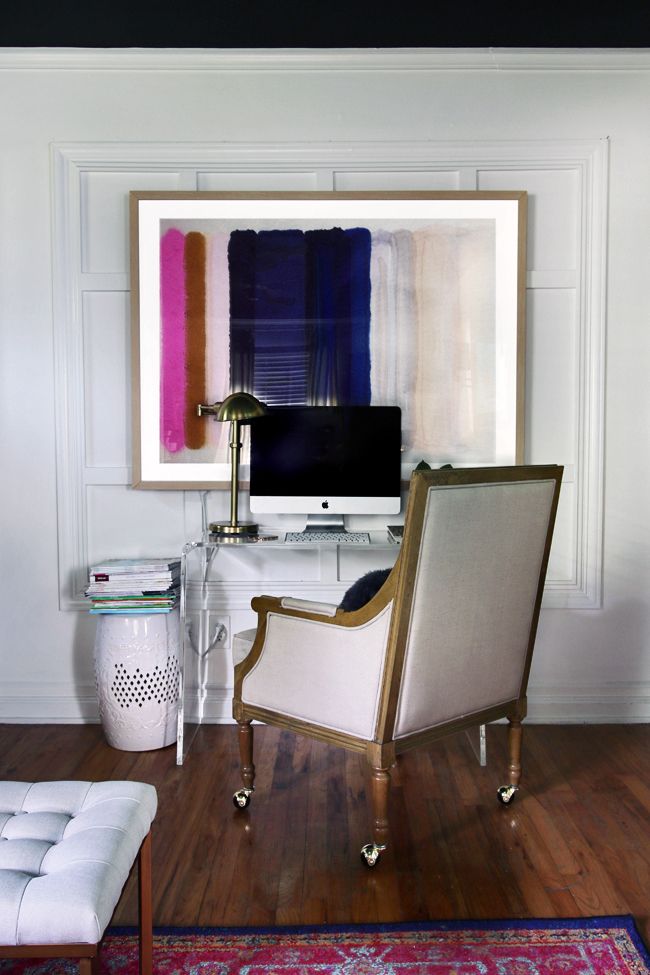 The desk issue I discussed last week was real. Like to the point that I could not work another day shoved onto my nightstand. I moved all the furniture in my home around & landed on a space where a slim desk would actually work. Unfortunately, it replaced the console & mirror on this wall…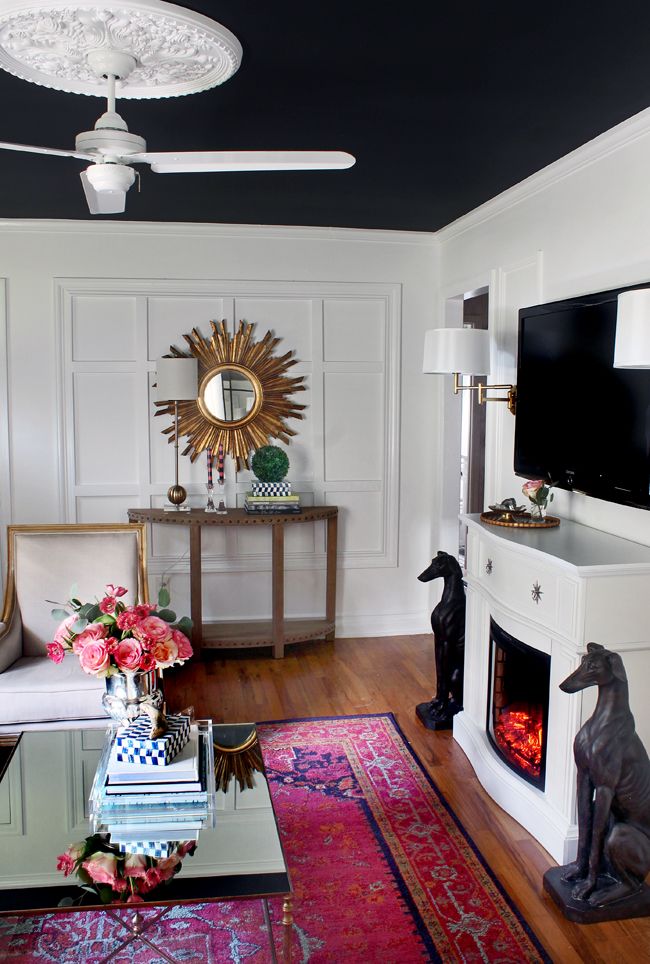 A functional desk beat out a console that simply sits there & looks pretty… So the console & mirror have been moved to storage to await a better suited opportunity in the future.
After removing the console I was still left with a tight space, so a full size desk was not an option. I needed a narrower console that I could use as a desk. I ended up going with the
Peekaboo Console from CB2
. (It is on backorder online, but luckily my local store had one left!)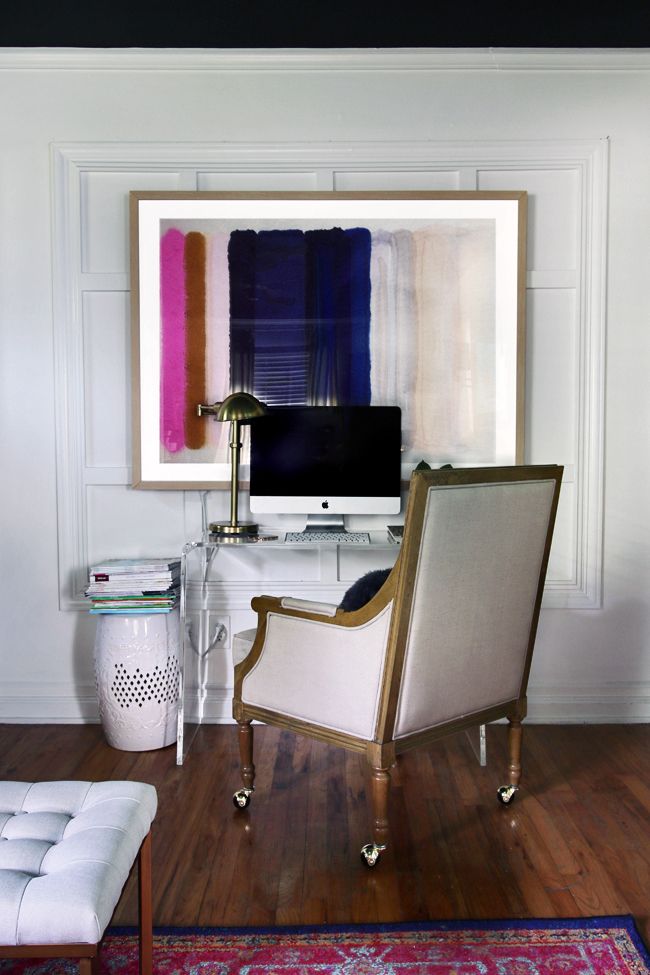 Obviously I love lucite for small spaces as it visually disappears, but this table also happened to be the exact dimensions I needed as well. Plus, it has been in my shopping cart for nearly 3 years… it was time to buy it!
Having my iMac on top, the screen blocked a good portion of the previous starburst mirror & the proportions weren't right, so I went with a new art piece from one of my favorite artists,
Kristi Kohut
. The colors look as if they were custom picked right from the rug! The framed print came from
Minted
, and is one of their
new larger sizes
. At 54″x40″ this certainly is a statement piece. I went with the natural wood frame to pick up on a few of the wood tones in the space & allow it to stand out from the white wall behind it.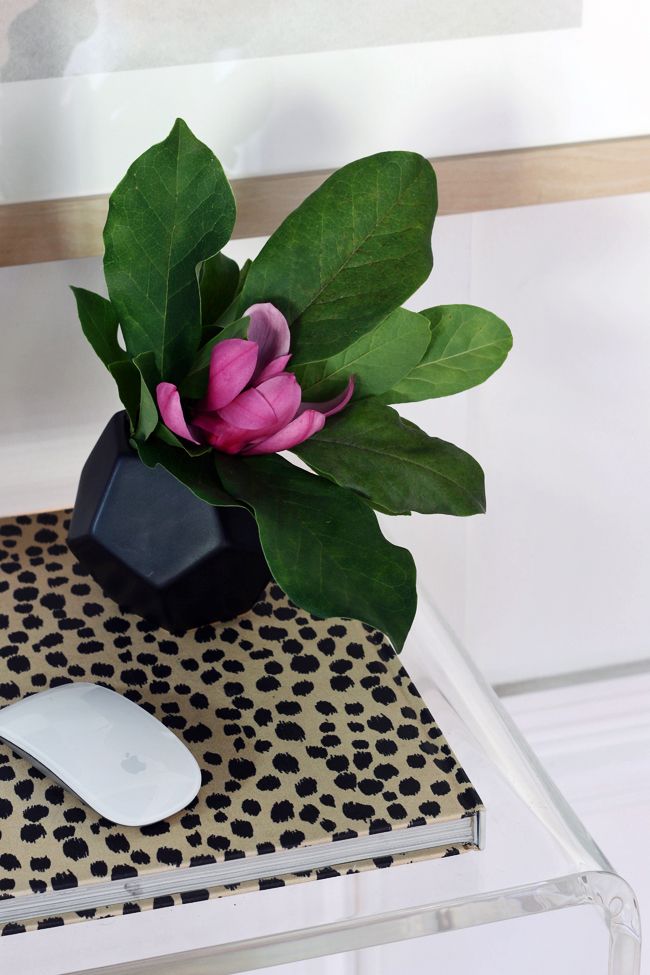 Using what we already had, I choose to reuse our existing linen chair as a desk chair. It was just too short. I added new casters to the legs & now have the most comfortable desk chair I have ever had. It raised it just enough & allows the chair to function well as a desk chair now. Plus, the chair is still in the space, so we haven't lost any additional seating.
We all have loved the change to our living room & the kids have easier access to the computer now as well, which will be great when school starts. Now it's time to get some work done!!
I'll be back tomorrow to discuss how I hid most of the wires & components even with a clear desk!
Happy Tuesday!!
xo – Kristin
**The artwork was provided by Minted, but the images & opinions are all my own.