My Secret Tip for Hiding Wires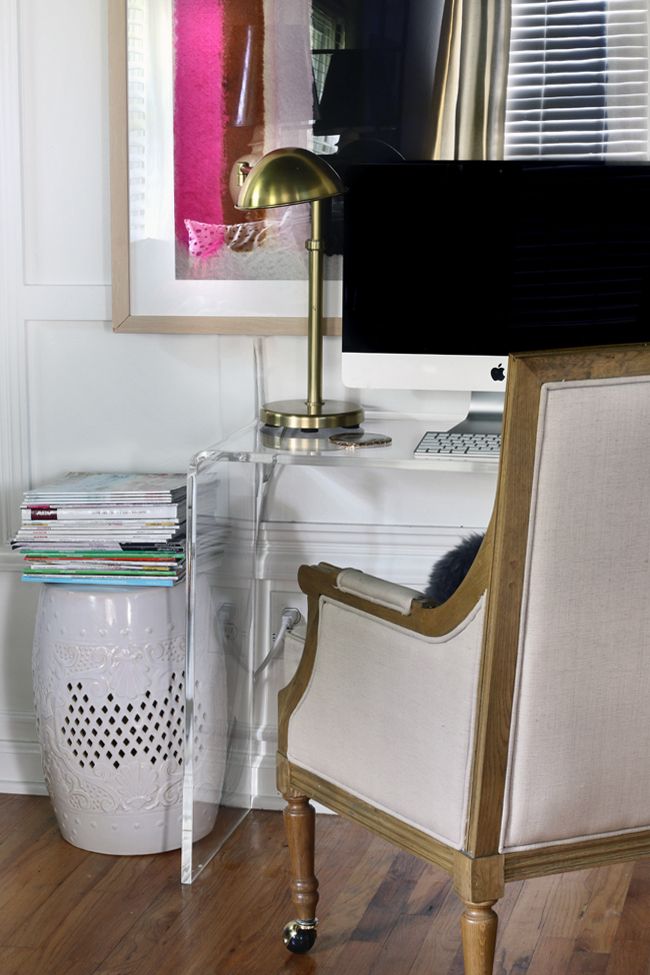 There are five wires coming out of this desk… plus a modem & a wireless router. Normally you could strategically hide them behind or under the desk, but not with a clear one! Those black & blue wires were sticking out like a sore thumb. So I pulled out my favorite white
Gaffers Tape
and wrapped all of the wires together coming out of the back of the computer. I ran the excess of wires behind the artwork & back down the moulding (to the left of the lamp). The tape is pretty strong & holds the wires to the wall behind the artwork really well.
You'll notice there is only one plug in the outlet beneath my desk… That is a plug to a power strip that is hidden in the hollow bottom of the ceramic garden stool! All of my computer wires, ethernet cables, the cable modem & the wireless router are all in the garden stool as well. This little ceramic beauty is doing all of my dirty work for me! Plus, the decorative holes in the design allow for venting.
Obviously, not all components (or garden stools for that matter) are the same, but the majority of these stools will have an opening within the bottom to allow for secret storage of some kind. Even if you can't fit all of your components in there, at least a good majority will be out of sight.
We also have a wireless printer that lives in a closet, this also clears up space for an in home office. Love technology, but not the spaghetti mess that comes with it.
Do you have any clever tips for hiding wires?! I'm always looking for ideas!
xo – Kristin