Adding Outdoor End Tables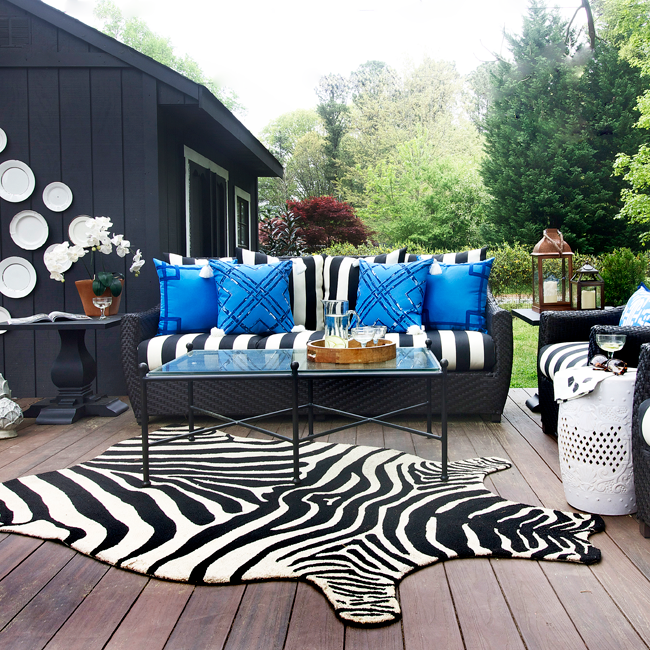 Completing our patio build last year, we realized one fatal flaw… we had no end tables! Which became an issue when entertaining as you can imagine. I had used a flimsy old metal table for the pictures last year, but had to quickly discard it as a swift glance in it's direction would make it fall over. Our priorities for enhancing the space this year were landscaping, an area rug & new tables.
When beginning my hunt, I knew one thing… I wanted metal tables that would stand the test of time in terms of both function & style. I also knew I needed a larger scale. Often times I have found that in the outdoor furniture market accent tables tend to be under scaled. Leaving seating to feel massive in comparison. I fell in love with the
Brampton End Tables
from
Arhaus
as soon as I saw their classic lines & their visual weight. Their proportions married well with our existing sofa & lounge chairs & were the perfect addition to our set.
I decided to upgrade our coffee table as well to break up the "set" feel a bit & bring in another layer/material into the space. By adding in the
Santorini Coffee Table,
with it's classic metal base & large glass top, the reflection of the trees & surroundings reflect off the table providing a mirror like quality. The sparkle of the glass also relates back to the china on the wall as well. (which is still holding up strong & looks as good as the day I installed them!)
I also have to say, after having a house full of renovations & boxes living in every room of our house, it was such a pleasure to have these pieces delivered with white glove service with not one piece of packing material for me to deal with.
If you are looking for the perfect outdoor pieces to add to your space,
Arhaus
is having a sale on their entire site of 30% through the 20th. This would be a great time to take advantage of some beautiful furniture at a great price.
xo – Kristin
**This post was done on collaboration with Arhaus, but the opinions and images are my own.