The Kitchen Design
This post was created in collaboration with Martha Stewart Living ™ exclusively at The Home Depot.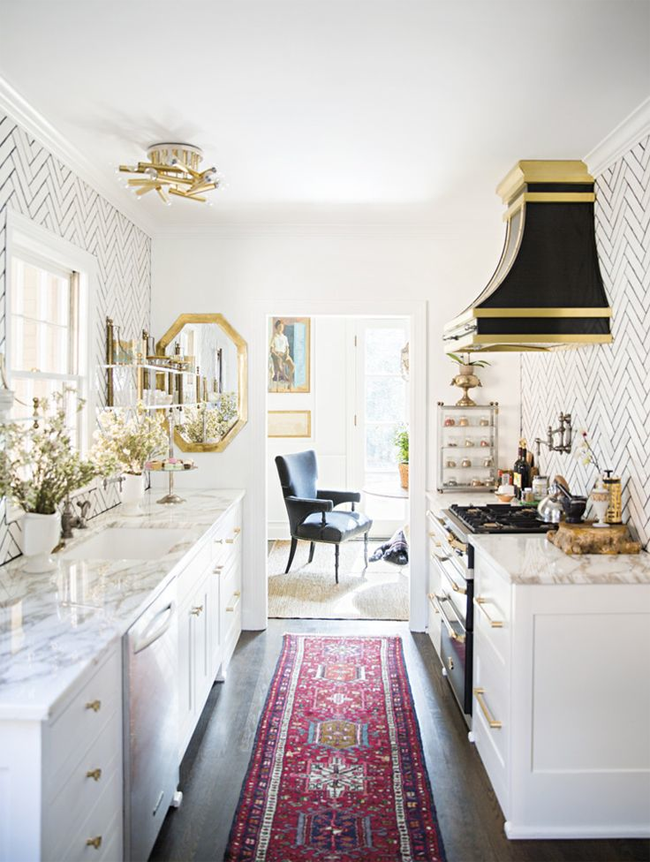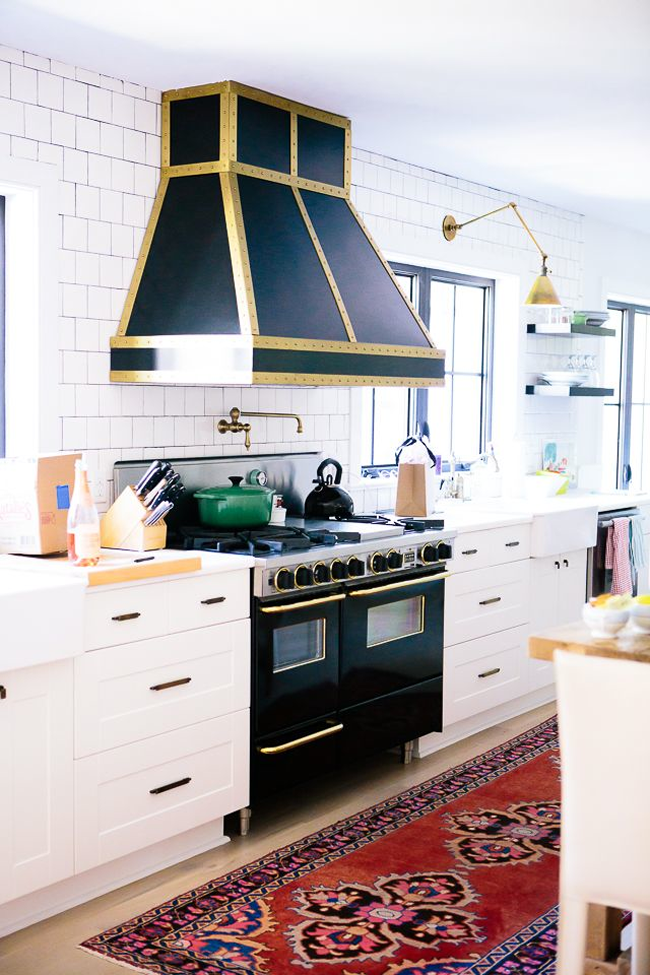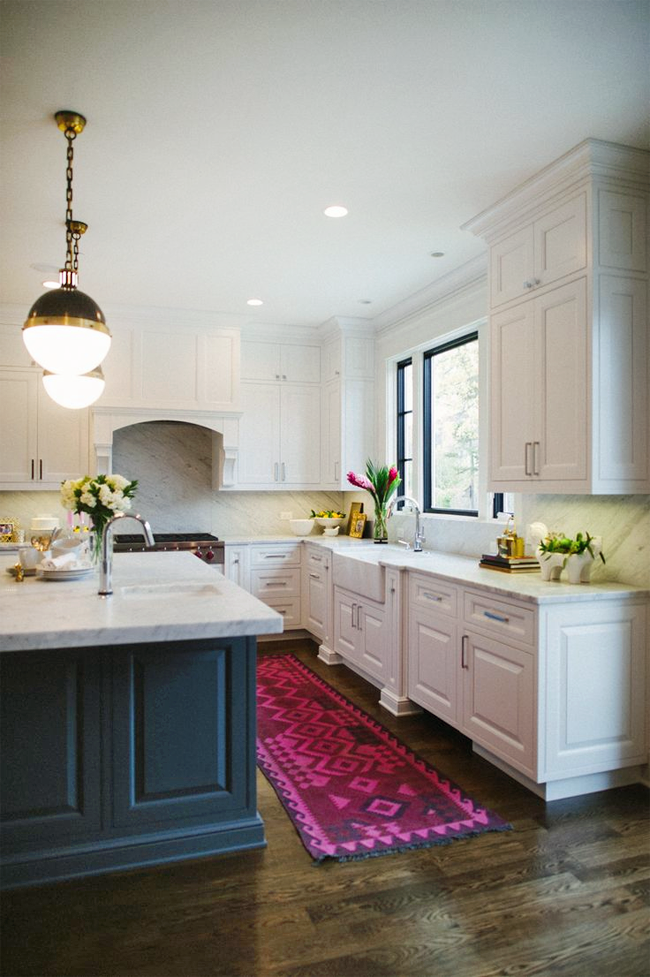 When starting to dream up my ideal kitchen design, I did exactly what I ask my clients to do… I went back through all of my favorite magazines & Pinterest boards & pulled every kitchen I was drawn to. When pinning Kitchens, in the past, I would simply pin anything that I found beautiful… but knowing I was working on my own space I focused on the rooms I would love to live in myself. When working with clients I always tell them that by pulling spaces, that you would actually like to live in yourself, there is always a cohesiveness to your pulls & your style will appear whether you even know what your style is or not. Sure enough, my three favorite inspiration kitchens above have a lot of similarities & gave me a strong jumping off point for my own kitchen design.
Obviously, I am drawn to white kitchens with classic design elements, white stone or stone like countertops, brass details & some unexpected touches. These ideas helped me go into my first design meeting at The Home Depot with a clearer vision and allowed me to not feel overwhelmed by the many options available from the Martha Stewart Living ™ collection.
My first design meeting at The Home Depot was approaching, so I knew I needed to gather a few items to help the Kitchen Designer better understand our space.
// Overall Dimensions of the existing space
// Dimensions (make/model) of existing or new appliances/sinks/faucets
// A list of needs/wants for the new kitchen as well as what is not working currently.
// A few quick photos of the space to help illustrate the current situation
Here is a quick reminder of the space currently…
I first met with my Kitchen Designer, John Hays, from The Home Depot in December of 2014. We discussed all of the above & we were quickly able to pull together a new layout. Not having a large space we were only able to manipulate the layout so much, but by using specially designed cabinets & features that come standard in the Martha Stewart Living™ Collection we were able to create a stylish & functional space (with more counters!!!! which was our main goal). The great thing about sitting down with John, was the ability to see your potential kitchen come to life right in front of you. Here are the initial renderings of our new Kitchen. (note: these are just a visual reference, not a color reference.)


This already felt so much better than our existing space & by moving a few appliances around we were able to create a better work flow as well. The Range & Refrigerator swapped spots to open up the entry from the back door. We will no longer be greeted by the large side of the fridge!! And by adding an over the range microwave we were able to clear up additional counter space on the opposite side. With the little room that we had, we were still able to add full side panels to frame in the appliances as well as add functional cabinetry & crown moulding to fill the void above.
I also mentioned this awkward little space at the end of our kitchen & asked if there was anything we could do… luckily, John was able to add a 12″ deep counter height cabinet that helped tie the entire space together.
We were also able to include an angled cabinet at the entry that allows us to wrap the counters & cabinetry onto the end wall. Providing us additional storage & work space. (note… this area of counter space was already more than what we had in the entire kitchen originally!) We left the kitchen sink in the same location, but moved the dishwasher to the opposite side to allow for that new L shape configuration. We finished that row of cabinets off with a 24″ wide cabinet filled with drawers. A vast improvement from our 12″ wide existing.
For the upper cabinets, I knew I wanted to include these beautiful open shelves with corbels to provide storage for our everyday dishes & go to items. And on the end wall we utilized a large cabinet with a secret message panel on the end… I can't wait to share that piece with you once installed!
Once the floor plan was in place, we narrowed down my cabinet profile options based on my inspiration images. Those images really helped to narrow down the choices… I went with the
Wellston
profile as it is a stepped shaker & will always be a classic choice. The
Wellston cabinet
is made of an extremely durable material called PureStyle which is perfect for my busy home. I learned that PureStyle is actually more resilient than wood. The material provides even color coverage, is easy to clean and resists cracking from heat and moisture. And for the countertops, I went with the
LG Hausys Viatera Quartz Counters in Snowcap
. Quartz counters have the beauty of stone, but are durable, stain resistant & require no sealing! I think these counters may be my husbands favorite addition to the space.
From there I came home & created this rendering to better help illustrate my vision…
After approving the design/layout with John & The Home Depot, an installation team came out to our house to verify the dimensions & ensure that the cabinets would fit perfectly. Then it came time to order!!! There was about a 6-8 week lead-time for the cabinets to be built & delivered. Typically it's closer to 6 weeks, however mine took closer to 8 weeks as we ordered right before the holidays… December 24th to be exact!
Starting a massive kitchen overhaul can certainly be overwhelming. Having professionals who have both knowledge and experience creating these spaces is such a gift when it comes to planning the layout. There were elements that I didn't even know were available until John suggested them. The function & space we will be gaining from this renovation is something that we have longed for since we moved in 8 years ago. It will be such a dream to see this project as it comes to life. I'll be sharing the install details in the next few weeks & sharing sneak peeks on my
Instagram account
along the way!
xo – Kristin
I have partnered with Martha Stewart Living Omnimedia, Inc. for this kitchen program. All expressed opinions and experiences are my own. Thank you to MasterBrand Cabinets, LG Hausys and The Home Depot for contributing to this project.