The Secret for Keeping Rugs in Place
She requested a softer rug… well, she got a softer rug! To replace her flat woven rug that was rough on little knees during play time I choose to go with this gorgeous
Flokati Wool Rug
from AllModern. I had been wanting to add a
Flokati
for a while, but had been trepidatious about shedding… I mean a rug this shaggy had to shed. After reading the reviews (all 4-5 stars) I went for it. This
rug
has not shed one bit. Seriously. I took it out of the packaging and put it in the dryer on the Air Fluff Cycle to loosen the fibers up a bit from shipping. (It is a softer backed rug, so it folds up enough to put it in the dryer.) I laid it over a nice rug pad & it was perfectly fluffy. It also states that if any area gets a little matted, you can literally brush it to bring the fluff factor back.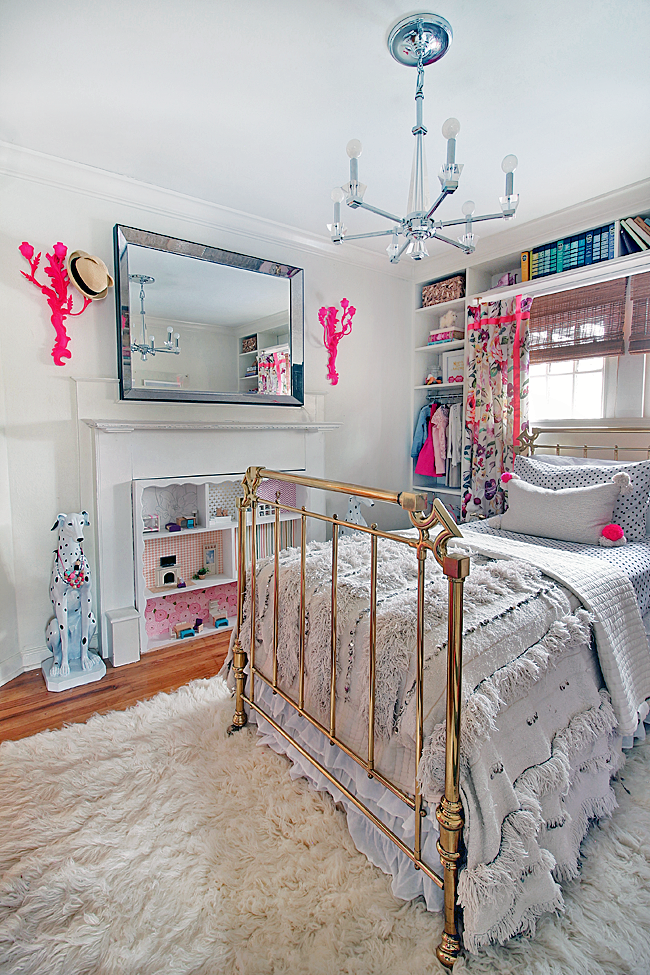 As this is a lighter weight rug, the edges can come up a little or slide around a bit. Completely normal with these types of rugs as well as the lighter flat woven or Dhurrie rugs. Whenever I am installing a rug like this, I pull out my secret weapon… and it comes from the Guitar Store! My secret weapon is called
Gaffers Tape
.
Gaffers Tape
is a very sticky tape used in a lot in for theatre & music equipment to hold wires together or on the floor. The great thing about this tape is that it leaves little to no sticky residue once removed. For rugs I simply make tape loops & place them around the perimeter of the rug to ensure the edges stay down. Works every time.
It is also great for wrapping up lamp cords & taping them to the backs of end tables or consoles so you son't have a mess of wires showing behind your beautiful tables! Photographers use this tape a lot too for all of those beautiful photoshoots in the mags. You don't see the amount of Gaffers Tape being used to tape something up so the space appears absolutely perfect!
I get my
tape
at our local Guitar Center, and I like to have both White & Black on hand so I can best match the color to the application needed. It is a little pricey for a roll of tape at around $16, but a little goes a long way & it lasts a long time.
xo – Kristin
** The rug was provided by AllModern, but the review is 100% my own. It is awesome!