Polka Dots, Pom Poms & Moroccan Blankets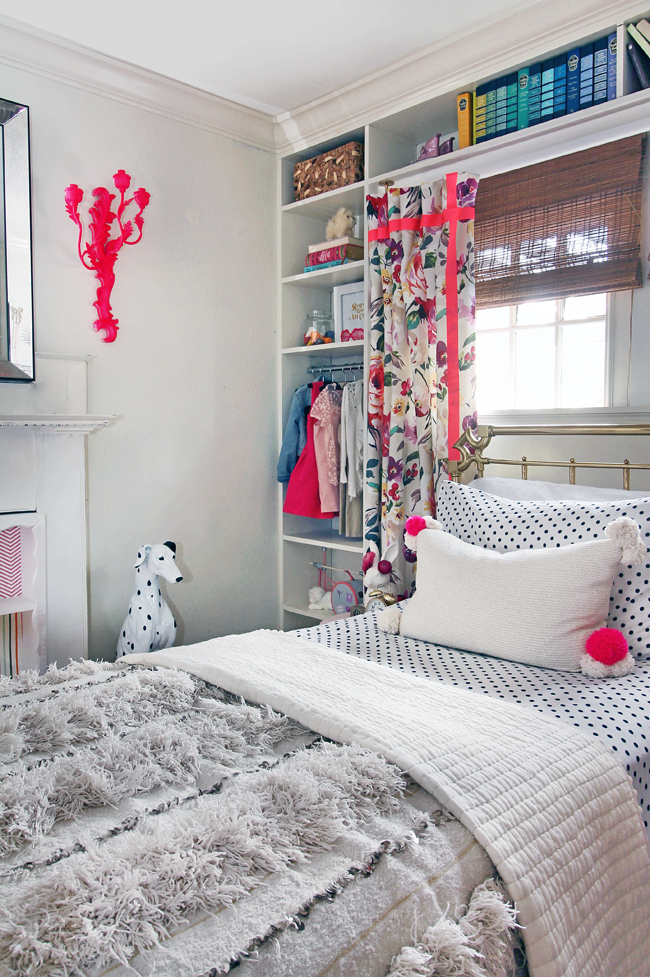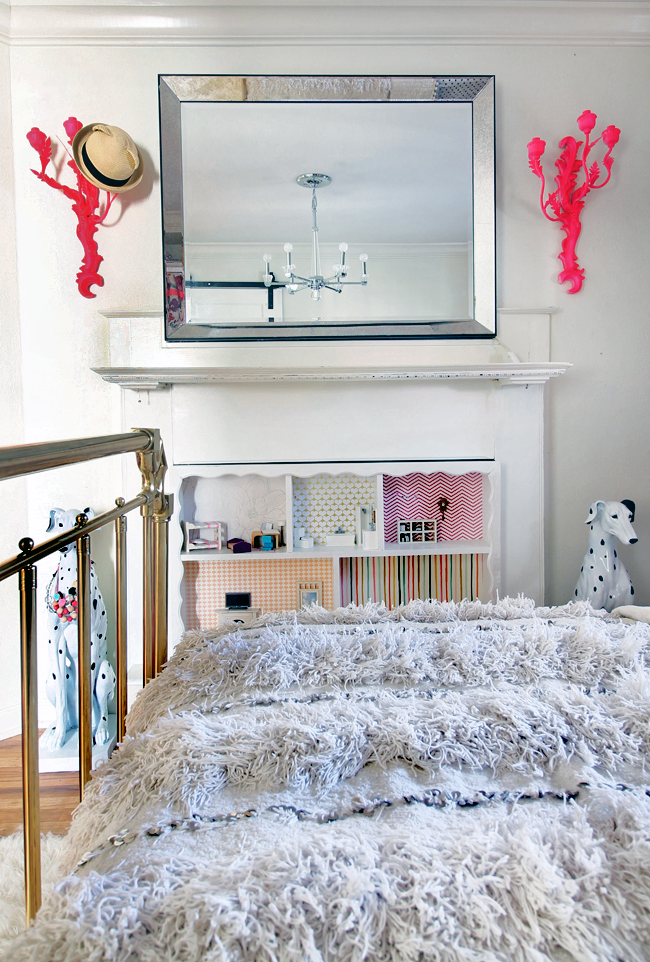 My absolute favorite change in Chloe's little room is her bedding! Lets be honest… this kid loves sparkles & pink, total girl. But wanting to avoid the obvious "Girl Room" stereotypes we looked a different direction and incorporated touches of her favorites in unexpected ways.
After learning that this kid sleeps
so much better
with a quilt vs a duvet, I immediately moved our
Pom Pom Quilt from Ballard Designs
into her room. I've said it before, this quilt is so soft! I also brought in my favorite Polka Dot Sheets. I picked them up at Homegoods a few years back, but have found similar ones
here
if you are interested. The bed was looking good, but was missing a little something. And then I found
MindaHome
. One of my favorite things about blogging is sharing new sources with you all & you need to check this one out!
MindaHome
is a gorgeous shop featuring one of a kind products that are all handcrafted to perfection. They import the most beautiful textiles from India and create unique items to suit any interior. They also donate part of the proceeds from the items purchased.
I had fallen in love with Moroccan Wedding Handira Blankets a while back & instantly knew this was the touch of texture & sparkle that Chloe's bed needed. This vintage blanket is decades old & was actually once worn by a bride. The story alone is a fairytale! The handwoven blanket features strips of silver metal sequins for the perfect "sparkle" factor. We fold it down at night for sleeping, but Chloe thinks her new blanket is just magical.
I also adore the
Lumbar Pillow
as well… that little touch of pink in the handmade Pom Poms really brought the look together.
MindaHome
creates these pillows using an Oscar de la Renta Boucle fabric with slight metallic threads (again, more "sparkle") It's the perfect place to snuggle up for a bed time story.
I love the fact that between her Vintage Brass Bed & the Handira Blanket she has so much history in her room & we have created heirlooms to pass on as well.
And for those of you thinking, all of this white in a kid's room?!! There is no way it can stay clean!!! I have to admit, that Chloe has always been a very careful kid, and is very considerate of her surroundings. Had it been any different, other choices would have been made. Believe me!!
xo – Kristin