Neon & Floral Drapery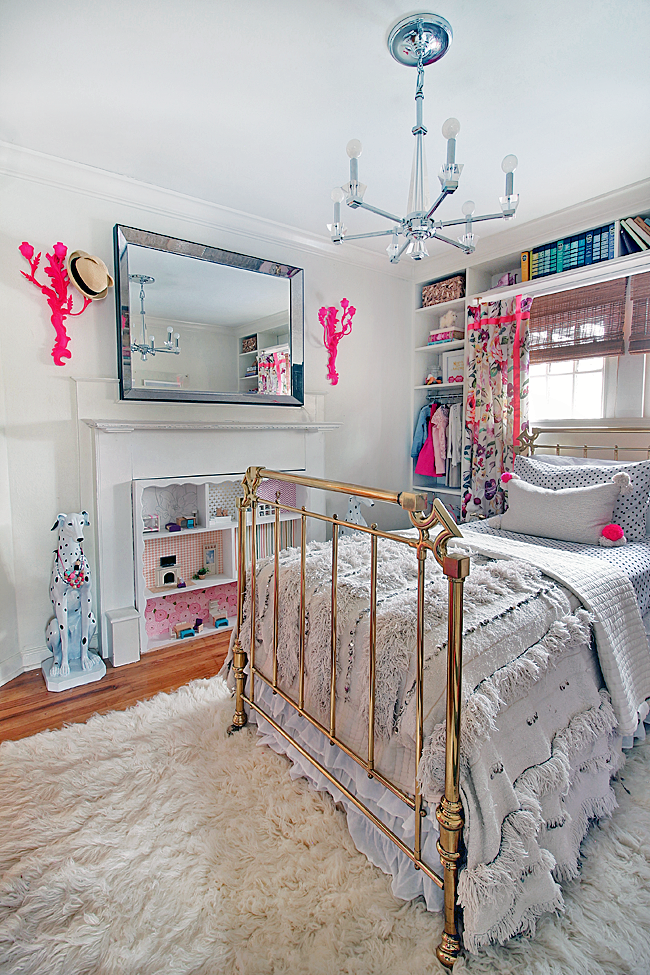 Chloe's little room revamp is almost complete. We are still waiting for her new light fixture, but besides that she is loving her new space. And the most important thing is that it is functioning for her as well. The few issues I addressed in yesterday's post about the items that just weren't working for her have all been remedied & look pretty darn cute if you ask me!
The first issue we addressed in this space was the window treatments. As I said yesterday, the previous treatment was blocking too much of the desperately needed natural light in this typically dark space. My solution was to bring in some
bamboo shades I ordered from Overstock
. I love the fact that they provide privacy while still allowing the light to filter through. Much better than her blackout shades I created last time around. They also raise all the way up… another feature the last shades did not have.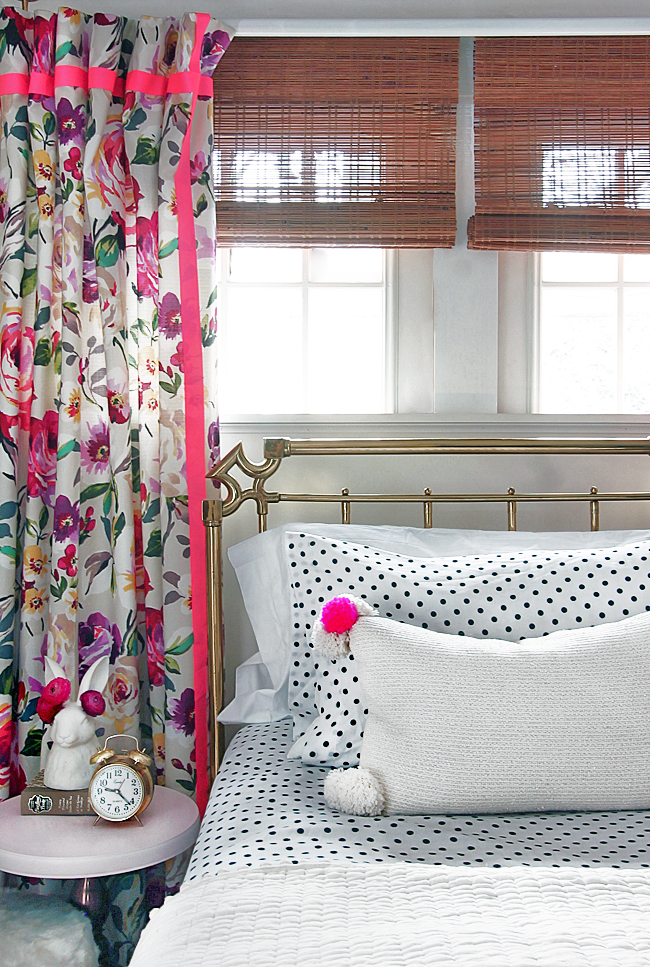 To address the issue of room darkening while sleeping, I decided to add two traditional drapery panels as well. They instantly softened the space & frame out her vintage bed beautifully. When it cam time to selecting the fabric, I took Chloe with me to my favorite fabric store,
Lewis & Sheron
here in Atlanta. We walked the aisles & stumbled upon this
gorgeous over scaled floral
. Chloe loved the colors & gave her little seal of approval.
I created the drapery panels myself, using my go to Ikea Ritva Panels as the "liner". They are already constructed with the header that allows for easy installation of my drapery hooks & provide the panels a little extra weight when completed. SImply sew your fabric onto the white panel & you are done. It takes a lot of the thinking out of sewing, for me at least.
Wanting the bright pink to really pop, I decided to add some neon pink grosgrain detailing to the drapery panels. This really made the color stand out.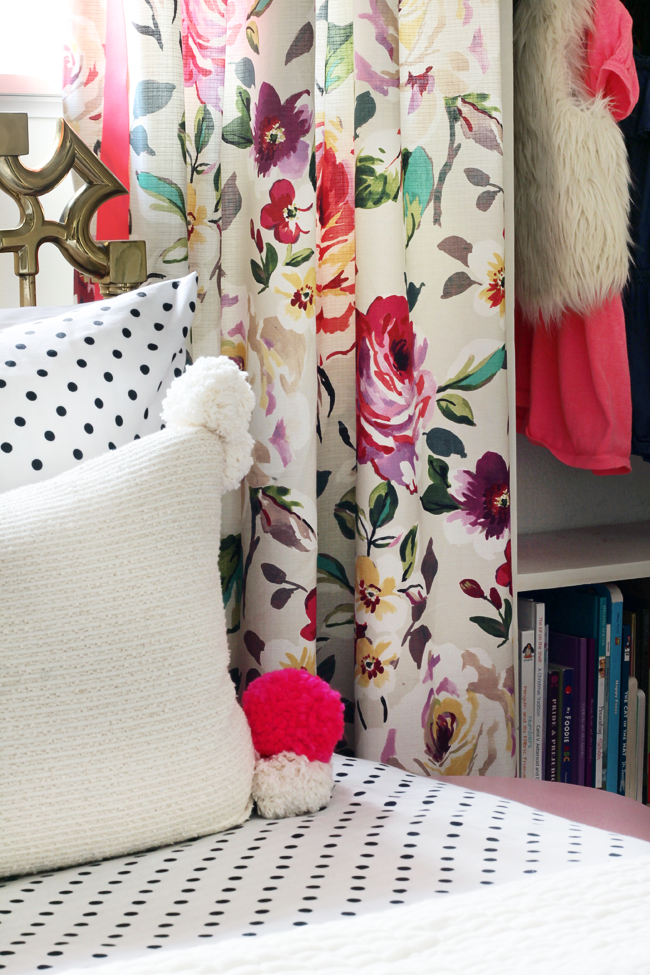 The beautiful colors also complimented my
Clare Elsaesser print
that once adorned my office. After I took down the print &
DIY Acrylic Frame
to create my StepSon's new room Chloe exclaimed the flower lady needed to go in her room. I love that she is forming her own opinions on art & what she wants in her room.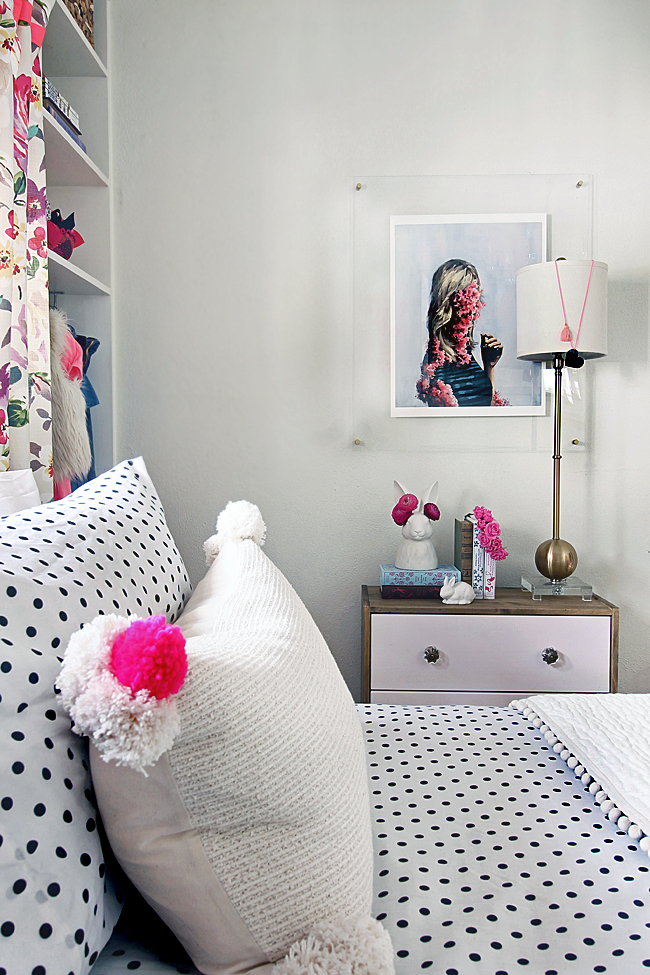 Tomorrow I'll be talking about her lovely new bedding!! (I kind of want it in my own room!)
xo – Kristin
**Drapery Fabric was provided in collaboration by Lewis & Sheron.