Live Edge Inspired Headboard Tutorial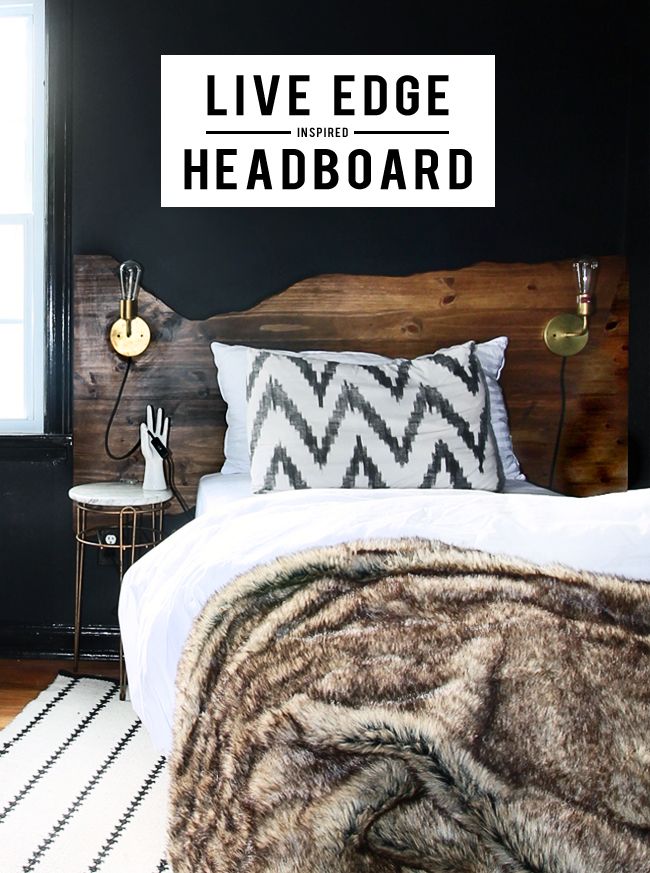 If you have been a follower of mine for awhile, you will certainly recognize this technique. If the look isn't broke, why fix it, right?! We used this technique three years ago to create our
outdoor dining table
. It has held up wonderfully & we still love the look. So when the time came to determine a headboard for the boy, this idea immediately came to mind. And this project really couldn't be any easier… plus it is really hard to mess up. So if you are a power tool newbie, this is a great project to try out.
M A T E R I A L S //
JigSaw
Belt Sander
Stain
Sealer
I N S T R U C T I O N S //
Like the table project, this is not a real live edge piece… this is simply inspired by the look. It all starts with a piece of large Laminated Pine Wood that is generally in stock in the lumber section of Home Depot or any large hardware supply. Just your run of the mill squared off piece of wood. Nothing special… yet.
To create your Live Edge Look, I like to start with a JigSaw to give my overall outline or shape I am looking for. This can be pretty rough as you will be going over the entire cut with your Belt Sander. So don't stress if your cut lines look choppy or jagged. I told you this project is forgiving.
Next you go over your cut lines with the Belt Sander (typically in a Medium Grit Paper first). And you literally follow your cut line sanding as much of the wood as you want. I find it works best to change the angle that the sander is in as you move along to give it a more realistic look. That's it. Simply attack the wood & have fun. After you are satisfied with the wood, go over the entire piece with a fine sandpaper to ensure a smooth surface.
When it comes to staining, I always like to use a
PreStain first
. This allows the actual stain to go on smoothly rather than blotchy. It's an easy application, so why not do it right the first time. Follow the PreStain with your color of choice, I used
Minwax Special Walnut
. Once that is dry you will need to use a sealer. I used a
Satin Polyurethane
.
Once you are ready to hang I highly recommend using a Pair of
French Cleats
(& appropriate anchors if not hanging directly on a stud) to mount this to the wall. This hanging method is one of my go go's. Especially for headboards or large art.
Knowing space was limited in our situation & that typical nightstands would not be an option, I opted for sconces mounted directly on the wood. These
Raw Brass Beauties from Barn Light Electric
were the exact look I was going for. And having the exposed cord left me with the option to not have them hardwired. And a really fun reason to use my porcelain hand as an accessory… not gonna lie!
And speaking of nightstands… this little marble & brass table has made it's way throughout our home & it's one of those pieces I get asked about all the time, so I'll explain it again. It was constructed from a brass hairpin plant stand I found at the thrift store for maybe $2.92 & an extra marble top I had from another plant stand. That's it.
I'll be back tomorrow with more room details!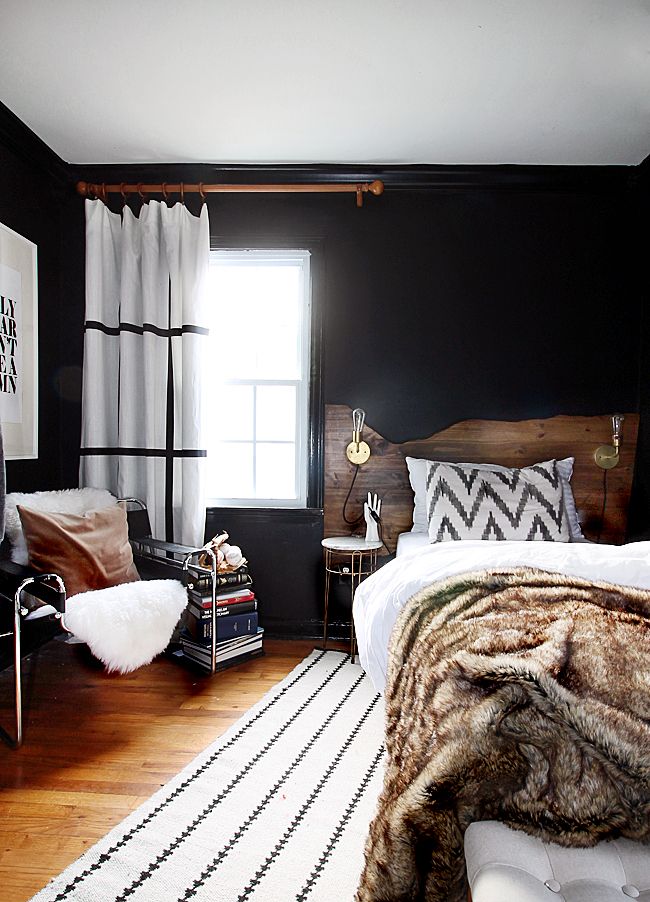 xo – Kristin