Garment Rack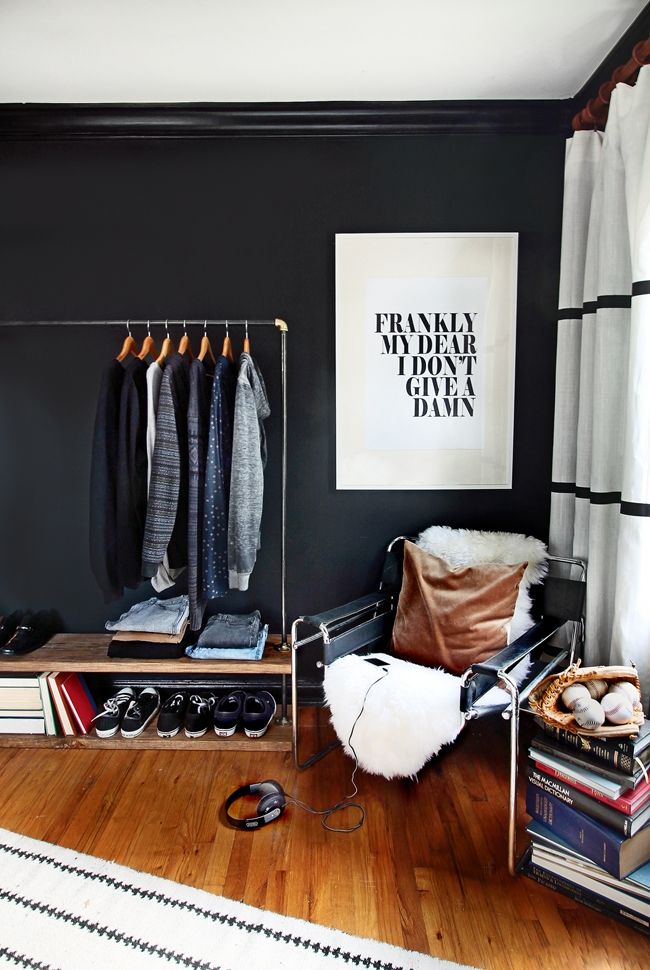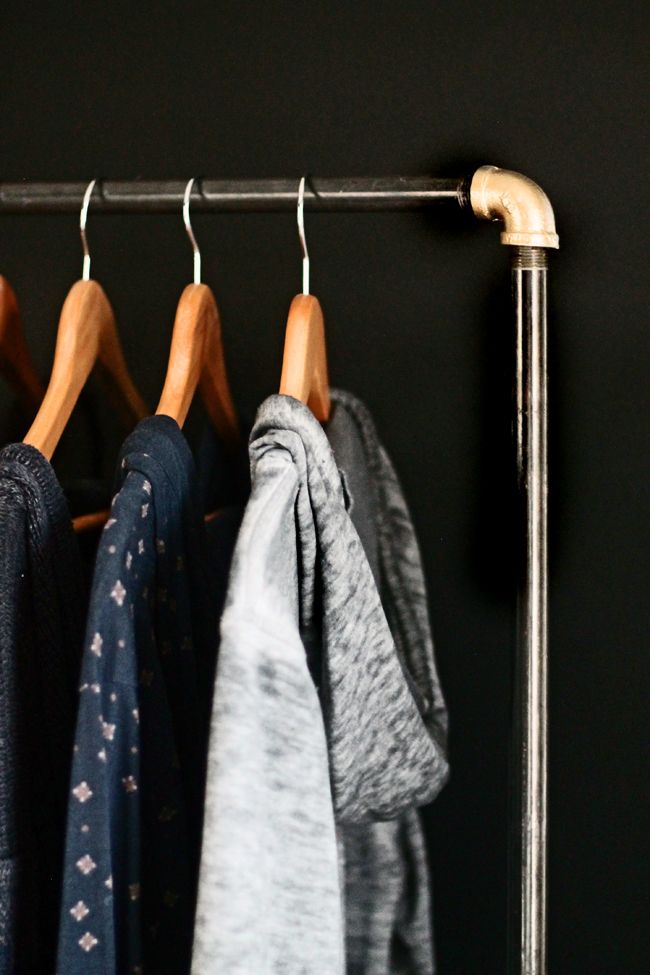 What do you do when you have three weeks to create a room & no closets… you run to tried & true ideas that you know will work (i.e. the headboard reinterpretation of our table) as well as this simple solution for a garment rack. I am not the first, nor will I be the last to recreate a Garment Rack made of Steel Pipe, but the look & more importantly the function was exactly what the room required.
I was mostly inspired & referred to my friend
Anna's Tutorial over at In Honor of Design
. (btw… there is more coming from Anna & I in the very near future!!) I followed her basic idea, only altering slightly by adding a second shelf at the bottom. This has been great for shoes & a stand in bookshelf.
Until we know what further storage needs he will require, we have considered either adding a third shelf to the bottom (he's 6'3″… higher is totally fine!) or mounting a shelf above. But for his basic storage needs, this has been more than helpful.
The great thing about this project is that if you do your math & planning ahead of time, you can create the entire piece without having to cut a single item at home. There are so many variations in sizes/lengths of pipe that you can literally create exactly what you need. We also utilized the store cutting the wood for us. This always saves the hassle of having to pull out the power tools. Especially when it's cold & rainy. Not the best time of year for big projects!
The only other tip I will suggest is washing all the pipe before hand with a good degreaser (a good dish soap like Dawn will do the trick!) This will save your hands from getting filthy & ensure that paint, should you choose to add it, will stick. I left ours the standard pipe finish except for the brackets & elbows… I added a quick shot of gold spray paint to those.
I love how the pipe relates back to my beloved Chrome Wassily Chair. This chair was my first real furniture purchase over 8 years ago & I have hated having it shoved up in the attic for so many years. It is one of those pieces that has just not fit anywhere in the house before. Obviously, it was just waiting for this spot.
xo – Kristin