#HolidayShelfie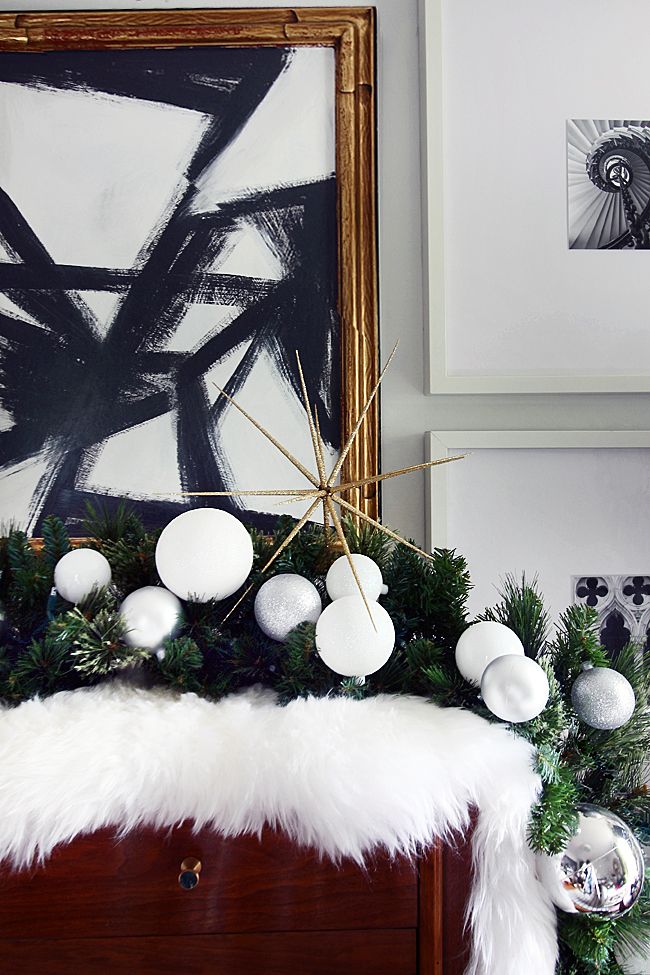 Happy December 1st Loves!! It is officially time to begin sharing the ornaments, glitter & boughs of holly around our home. To kick things off, I am starting with an unexpected space to decorate… our Guest Room.
Wayfair
asked me to decorate a #HolidayShelfie this season. Get it… a "Shelfie" instead of a "Selfie"?! I definitely prefer a Shlefie! The parameters were to decorate any shelf or flat surface in our home, so I went for the unexpected & topped our GR Dresser with a little holiday love.
I used a
sheepskin rug
as my first layer. A.) to mimic a snowy wintry feel & B.) to protect the top of the dresser from the garland. This
Garland
my friends is the easiest holiday decor, ever. It is a full & lush 9′, pre lit garland with all of the ornaments already attached (& it comes in multiple colors too!). It is seriously plug & play! I draped it so it would cascade over the side of the dresser… again, unexpected. Needing a little something else, I added the
modern Starburst
for a sculptural element.
You can see what six other talented bloggers created with their Holiday Shelfie over at
Wayfair
today. Lots of fun inspiration. And be sure to tag your own #HolidayShelfie 's on Instagram for a chance to win a $500 Wayfair Gift Card. Be sure to tag @Wayfair as well!!
xo – K