Bedroom Revamp: Vintage Dresser & Gallery Wall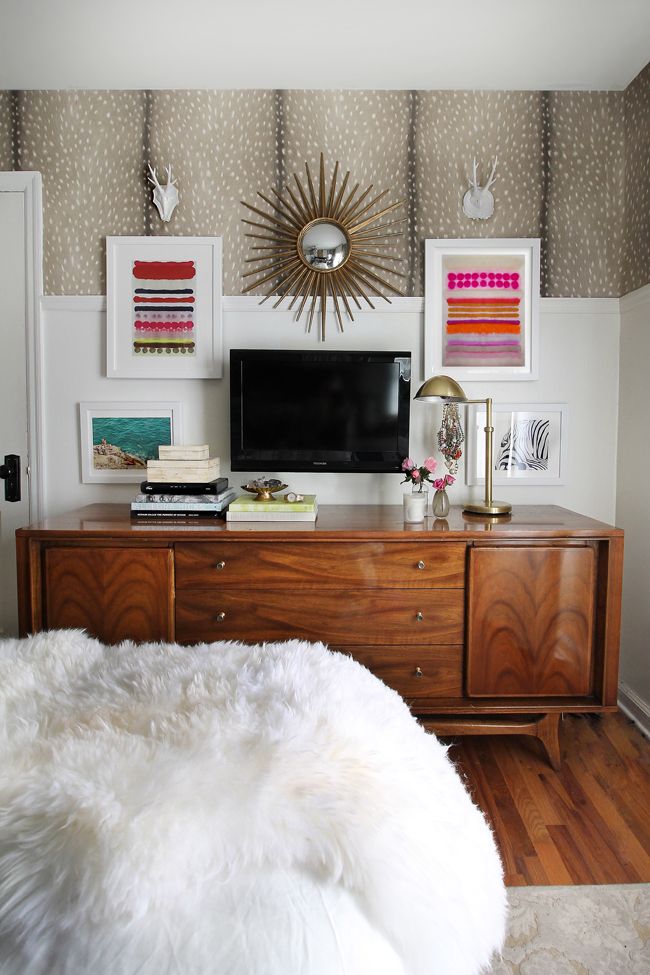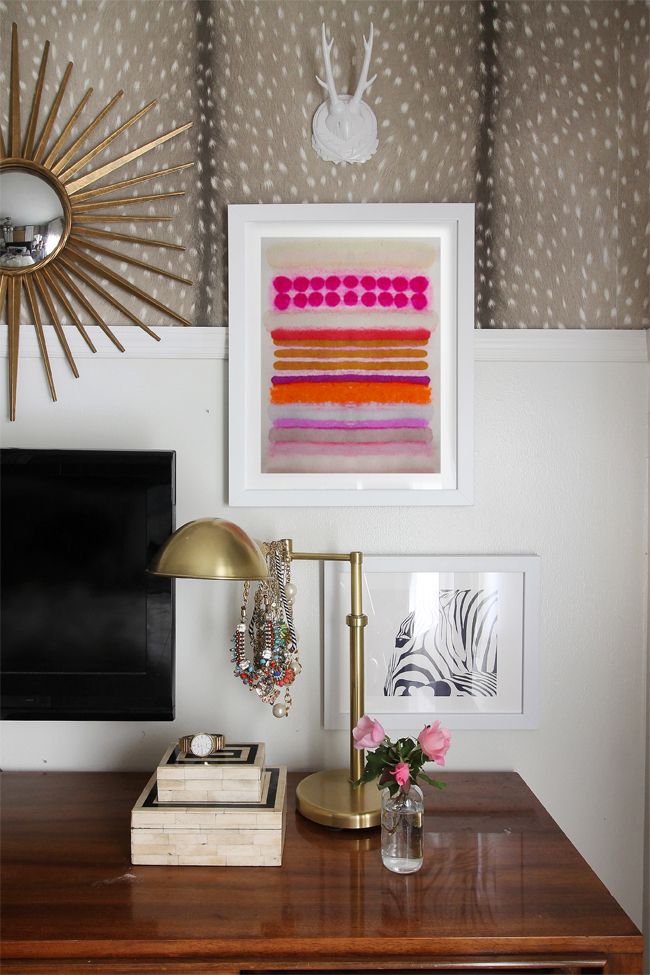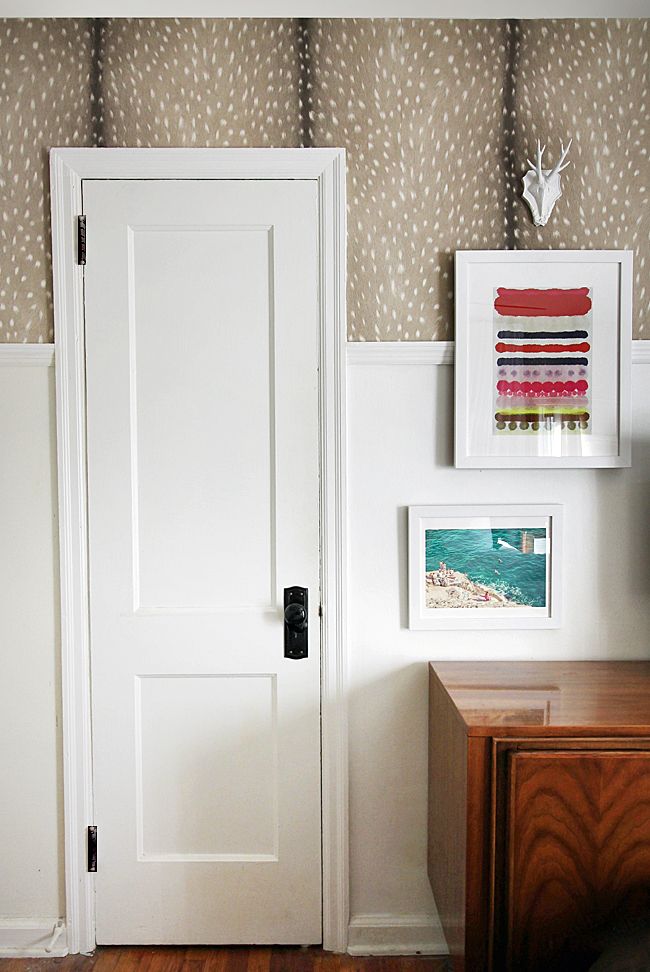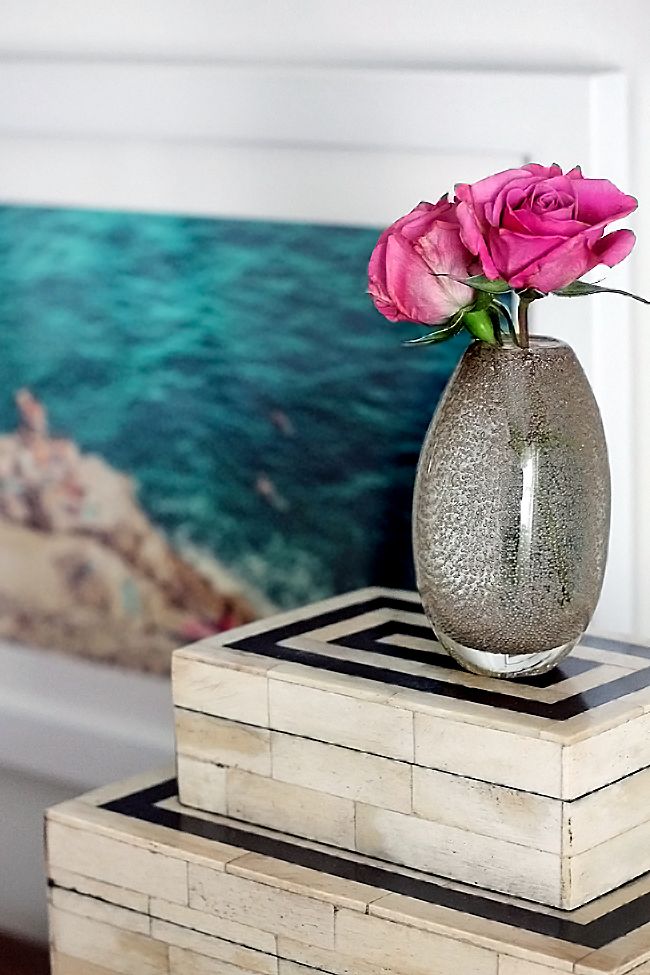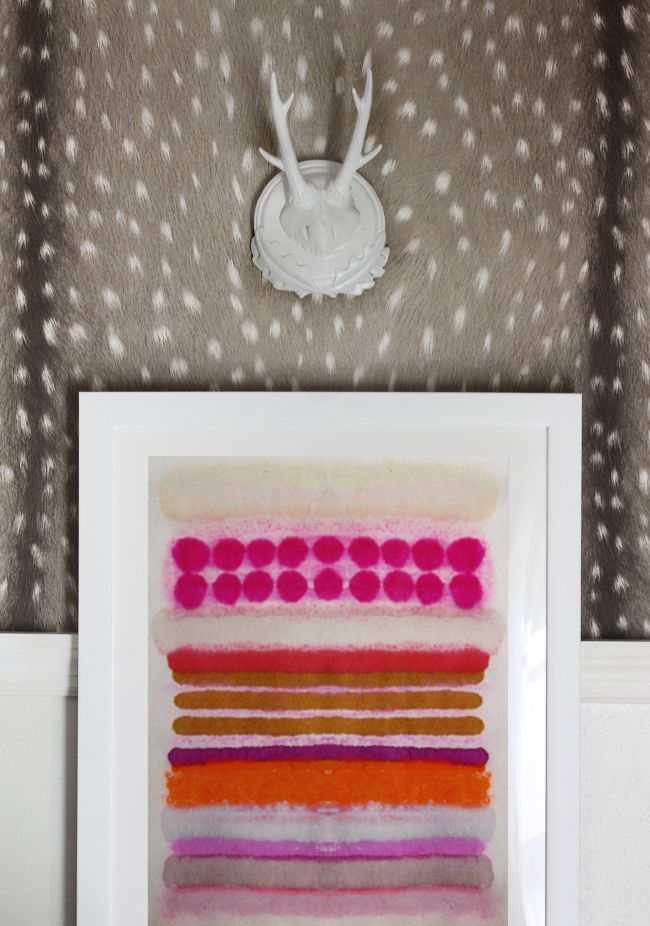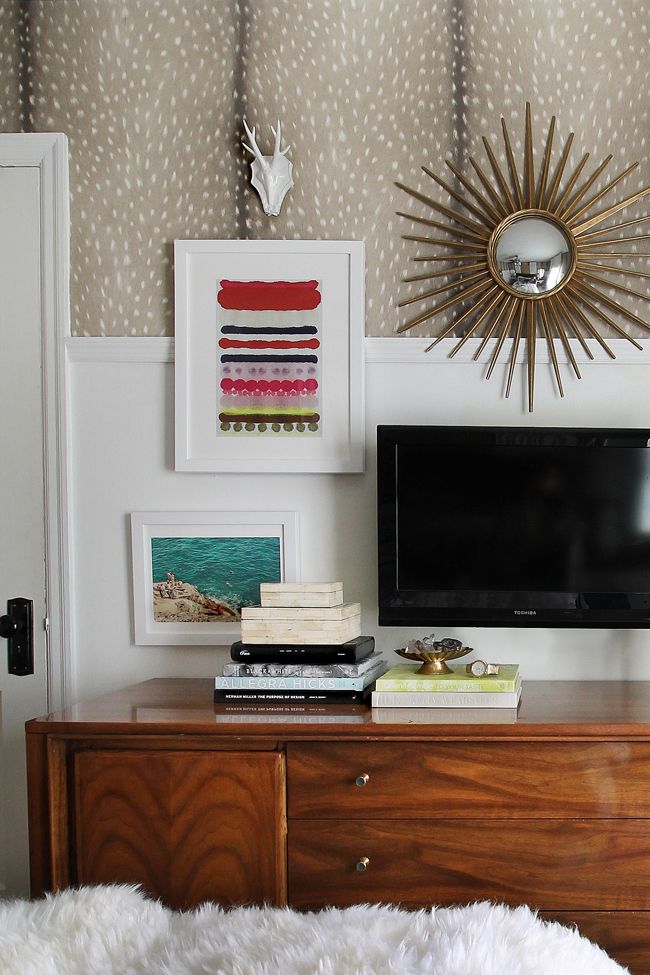 Remember a week or two back I wrote a post on my favorite dressers & how I had been on the hunt for four years with no luck… I swear to you, the very next day I found this vintage beauty on Craigslist! Meant to be. It is in near perfect condition for being 60+ years old & is a solid as a rock! I couldn't bare to paint the gorgeous walnut graining & even fell for the vintage brushed brass pulls… I have never bought a piece like this where not one thing needed changing. LOVE! Also, I adore the warmth the natural wood brings into the space. Adios Ikea dresser that I tried DIY'ing one too many times. Sometimes, you just need a fresh start.
Speaking of a fresh start, our little TV gallery wall needed an update as well. The previous one had been picked over for other spaces in the house leaving empty nails in their place. So I decided to interject some color from one of my favorite sources for art around,
Minted
. The great thing about
Minted's Art Marketplace
is that there is such a variety of styles that you can truly find something you will love. They also do a great job of featuring Independent Artists!
The first prints I choose are from artist
Kristi Kohut of Hapiart
. Her vibrant pieces are full of color & pattern, two of my favorite things. And quite honestly there isn't one piece of hers that I wouldn't own. She has quickly jumped to the top of my favorite artist list. I also love them hanging on the Fawn Paper. It is an unexpected pairing that simply works in my eyes. These are the two pieces I used…
Linked No. 3
&
After-Glow.
Love.
I also fell for this fantastic beach scene entitled
Seaside
by Alexandra Nazari. The colors were perfection & the subject matter is something both my husband & I love, so it was a natural fit.
The last piece was the
Hello Zebra!
print from Guacho Works. The digitally manipulated colored pencil work speaks to my love of the print, as well as stripes.
There was an obvious symmetry evolving on this wall & I wanted to anchor it with one of our existing Sunburst Mirrors. And after the
Fawn wall covering
went up, I thought it apropos to add the white faux antlers into the grouping as well. A gallery wall doesn't have to just be artwork & frames. I think the addition of mirrors & sculptural elements help to add character, especially when a TV is involved. Have to distract the eye somehow!
There will be a little break from the bedroom posts Thursday for something fun, but I'll be back to talk about the Bed on Friday!
xo – K