Barn Door using Traditional Door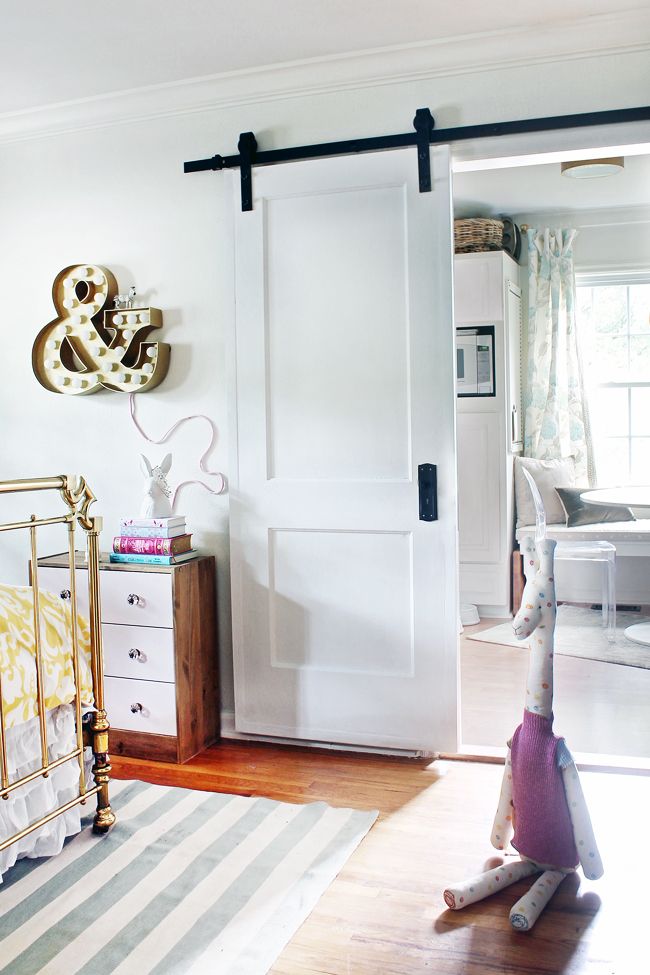 It's only been up for eight months now, so I figured I should probably share Chloe's Barn Door…. Better late than never right?! Well, here is the back story. After moving our daughter into our old Dining Room, we obviously needed some doors for privacy. Luckily, a few of the original doors were left in the attic. Here is the tricky part…. with the layout of this room, a traditional door swing would not work… plus we would have had to take out the door frame & add a traditional casing in, which would leave a headache for the next owners as they would probably want the space open. So my husband tossed out the idea of a pocket door, that's when I thought Barn Door!
After searching for hardware online & seeing the major price tags that came with them ($300-$400), we were going to go the full DIY route, but as we walked the aisles of Home Depot sourcing all of the parts we would need we saw
this kit
. Ummm… $149, yes please! While we could have saved a little more completely creating this on our own, we decided our time & sanity was worth the extra money we spent! We honestly don't DIY just to DIY around here. Believe it or not.
Not wanting to go the Rustic Barn Door look, or uber contemporary as it just doesn't fit the look of our home, we used one of the solid wood two panel doors to match the rest in the house. Surprisingly, this is not a look you see that often. Our existing door hardware throughout the house is black, so the Black Barn Door hardware coordinated perfectly & doesn't feel out of place at all. It glides super smooth & C loves having this feature in her space.