Bathroom Vanity Overhaul
First off, let me say one thing about our tiny bathroom… I love it. Well, most of it… Yes, it is small. Yes, it is the only bathroom in our home. But my dear readers, it is one of the reasons we bought our house. After visiting dozens of homes with slightly terrifying bathrooms, entering our little classic black & white bathroom was like angels singing! Granted this was a few years before we got into home improvements ourselves, so the idea of overhauling a bathroom was absolutely terrifying! Now, I am pretty sure I wouldn't bat an eye, but then… seriously, terrified.
The one thing I don't love is our vanity. Definitely not original.
Pros: It is white….
Cons: The white laminate is peeling off on a few of the corners, which is quite sharp. The Press Board Construction is swelling in sections due to the occasional bath tub overflows from Chloe's ever famous tub parties, they really are epic. The solid surface top feels really clinical to me color wise & while it has been fine for the past 6+ years… it would not have been my first choice. The other issue is the layout of the vanity… when the bathroom door is closed, if one of the drawers opens you are locked in the room. Not too scary as an adult… but a little traumatizing when your then 15 month old locks herself in the bathroom. Luckily my husband is Macgyver & managed to pry the door open.
Needless to say, when I was contacted by
Kohler
recently, to pair up & help them with their new
Tailored Vanity Collection
, I jumped at the chance to give this corner a little update with major style & loads of functionality.
The
Tailored Vanity Collection
allows you to customize your own vanity with a variety of vanity base styles, beautiful countertop options, any of their beautiful faucets & then you can finish off your personalized look with mirror choices & even various lighting… all suited specifically for your space. Not to mention all of the storage solutions (even in the smaller vanities!) that are available.
Wanting to keep our little classic bath, well classic… I went with the
Damask Collection
for the Vanity Base. It's traditional lines speak to our traditional tile. While the,
oh my goodness I am in love,
Purist Faucet
has a sense of modernity that speaks to me as well.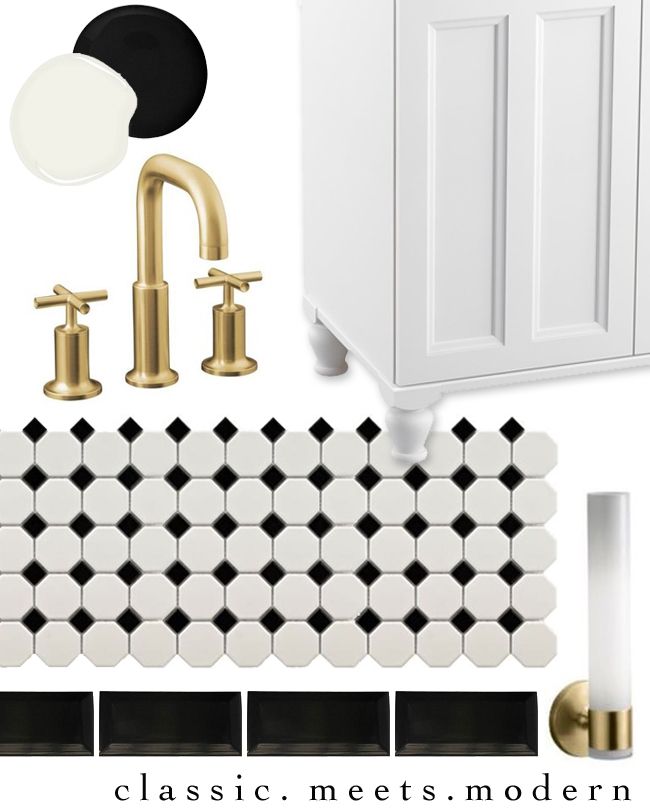 I am not spilling all of the details yet, but our vanity is designed & partially in our guest room at the moment. We are awaiting a few more deliveries & can't wait to get this installed very soon. Obviously, I will be keeping you all up to date on the process along the way.