Skirted Console Revisited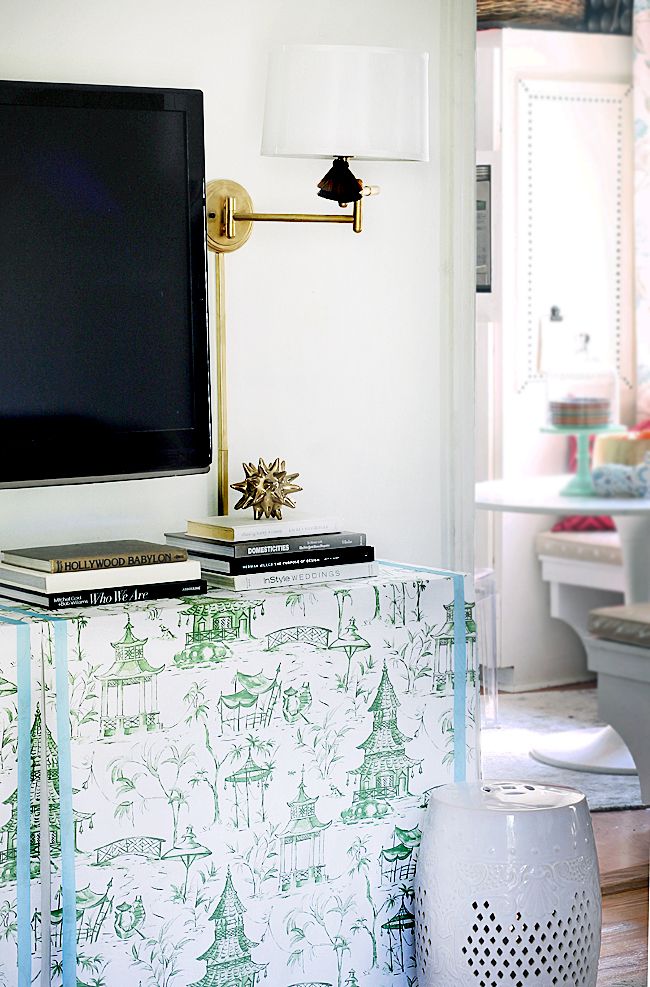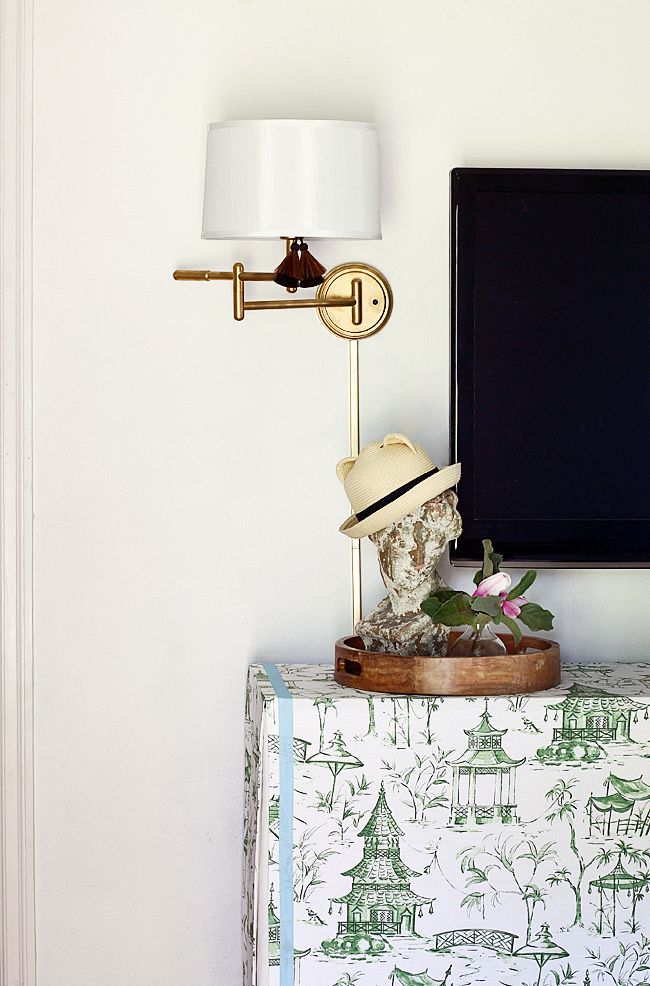 One of the first projects on the Hunted Interior was my
Skirted TV Console
. I created it to hide the not so fabulous TV console we had, as well as a great way to hide all of the lovely equipment & wiring. When I was creating it, our living room was beige-ish, the rug was brown & the sofa was brown. I added in the black & white to brighten the space. Since then however, the walls & carpet have gone white & the sofa has gone to black, so the Black & White Console cover was feeling a little boring at this point. Inspired by the color palette in our new
Kitchen Nook
& our
Hand Painted Accent Wall
, I decided to interject a little pattern & color this go around.
Having a few florals in the kitchen & the abstract pattern on our living room wall made choosing a coordinating pattern a little difficult. I knew I wanted a green accent, so I started from there. I ended up choosing the
Chinoiserie inspired Pagoda Toile
from
Lewis & Sheron Textiles
here in Atlanta. It is the perfect mix of TradChic that I love so much & adds a fresh new feeling to the space.
To attach it I made two front panels (plus the additional length for the top) that I hemmed using iron on fabric tape & I used my staple gun to staple the panels into the back of the existing board we added creating the
console last time
. I made two narrower side panels the same way & slid them under the top/front panels & attached them using hem tape as well. Love that stuff! For a final touch I glued on some grosgrain ribbon using fabric glue. This project took me about an hour to complete & really made a big difference.
FYI…
Lewis & Sheron Textiles
is offering 15% off this month when you use the code: FABRICFEVER So if you have any projects in mind, now would be a great time to order! And if you check back tomorrow, there might be a little giveaway action… just sayin.