Flea Market End Table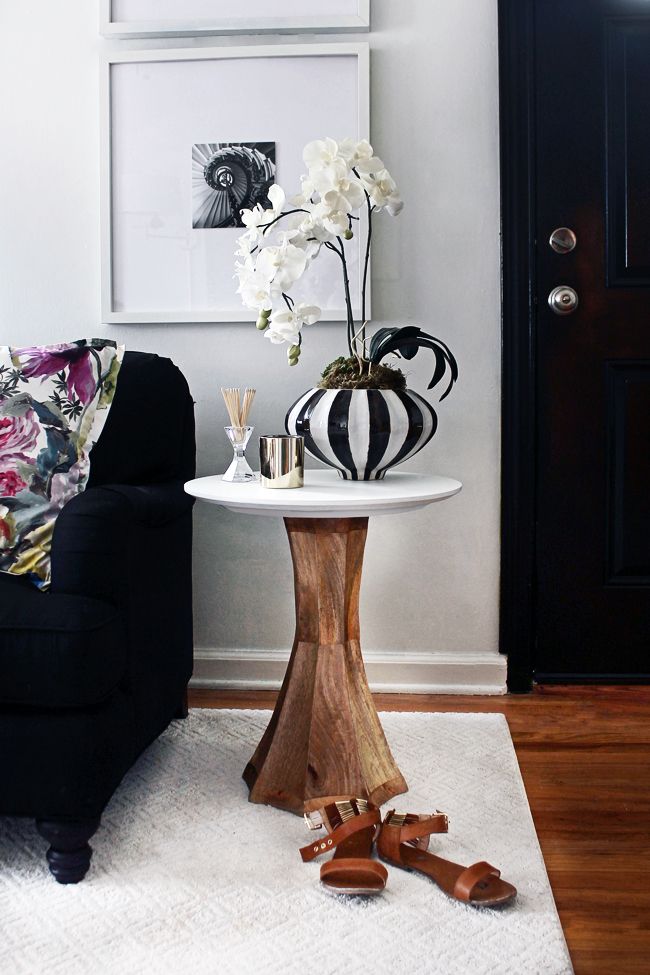 This past weekend my littles & I went out treasure hunting. Aka… thrifting. There is a road close to us that if you continue down a few miles you can stop at about six stores. Not something we have time to do on a regular basis, but definitely something we try to do every few months. When I start out heading to any thrift store, flea market or antique mall, I go with one thing in mind: Nothing. If you go with the mindset of "I need a wood chair!" chances are, you won't find that wood chair & you'll most likely overlook other treasures in the process.
I did not go looking for a wooden table base that day… but oh how excited I was to find this beauty! Again, most would have overlooked this gorgeous chunk of wood as it was tucked in a corner, with no top & a giant bolt sticking out the top of it. I am that shopper that digs. I will find a way to get to that gem stuck in the corner! This little beauty is solid, has zero scratches, has a beautiful wood finish & simply needed a top. Done. I scooped it up & continued walking around the store with my three year old on one hand & my new table base in the other. A typical look for me.
When it came to the top, I knew I needed a top that would be proportionate to the base, a good rule of thumb (that most often times works… not always) is to add 6″ to the diameter of the base to receive an optimum table diameter. This meant I needed an 18″ top. Luckily I'm a hoarder collector of furniture with potential & had the perfect top already at my disposal. Otherwise I would have picked up a Wood Round at my local Home Depot to attach to the base.
Now I am simply smitten with my new end table… & the story behind it. I am also in love with my new $4 vase. Very Jonathan Adler if you ask me?!!!