DIY Framed Wallpaper Panels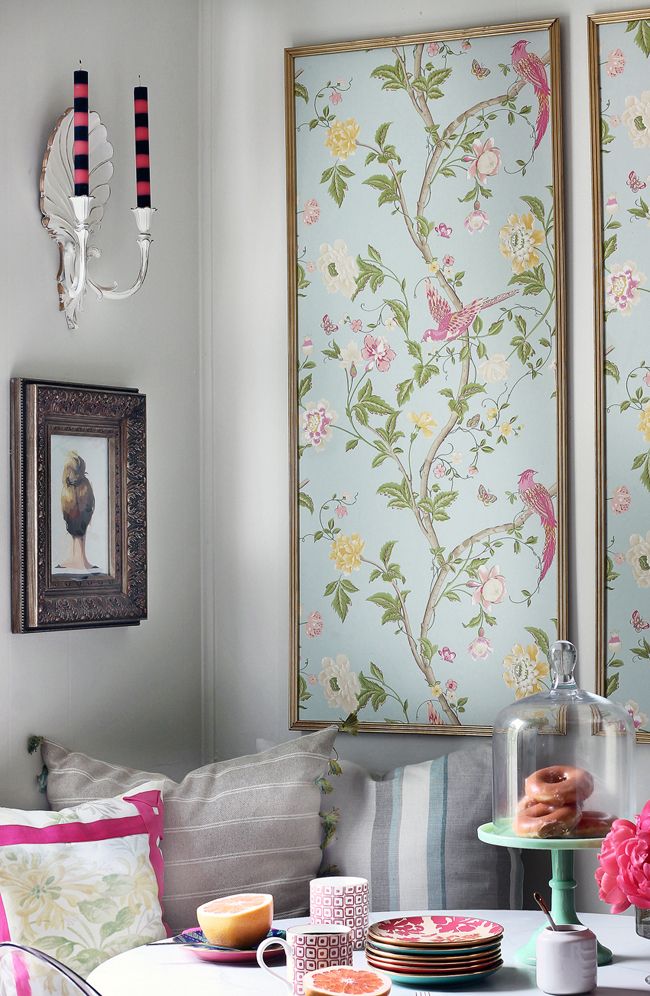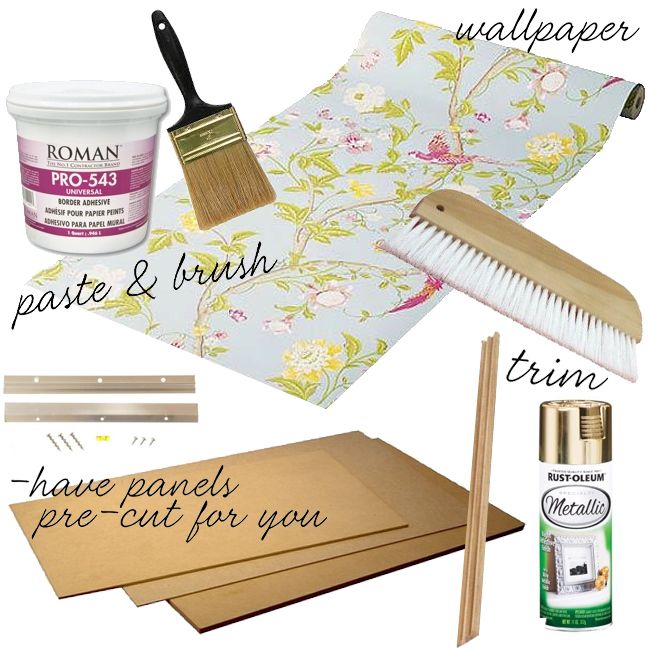 MATERIALS
Paint Brush
Wallpaper Brush or Spatula
Pre-Cut 1/4″ MDF Panels (mine were 21″ x 48″)
Gold Spray Paint
Glue
INSTRUCTIONS
Determine the size you would like your panels to be. I wanted a Chinoiserie Panel look, so I went with tall & narrow. Having this measurement with me, I went to my local Home Depot & had them cut down the 1/4″ MDF Panels for me. This will save you the hassle of having to do them yourself later.
Cut your wallpaper to the size of your panels & apply using Wallpaper Paste… Do not try to use something like a white glue, the paper will bubble & warp. Brush the Wallpaper Paste onto the back of the Wallpaper & place down on the MDF Panel. Use either a wallpaper brush or plastic spatula to help you get all the bubbles out.
While that is drying, cut your decorative trim to size. This trim is thin enough you could cut this using a small miter box & handsaw, if you don't have a larger saw. Give them a coat of Gold Spray Paint (or whichever color you'd like). Once the panels are dry, Glue the trim pieces onto the panels making the outside of your frame flush with the end of the panels. I like using a super glue for quick drying.
After the trim pieces are dry & secure, attach the french cleats to the back of the panels & on the wall. These kits are really great as they provide a small level for mounting, so you know your end result will be level.
And that's it! This was a fairly quick & simple process once I had all of the materials. The paste & trim pieces dry relatively fast & I had my panels up within 45 minutes. This is a great way to add a big impact to a space without the cost or commitment to wallpaper.
__________________
Also, I am competing in a
"Design Duel" for Lamps Plus
, giving me (or the other competitor) your vote enters you for a $500 Lamps Plus Gift Card! I am behind on making the announcement & need some help catching up. The contest ends on the 22nd & you can vote daily. I would certainly appreciate it #winkwink