Corner Banquette Tutorial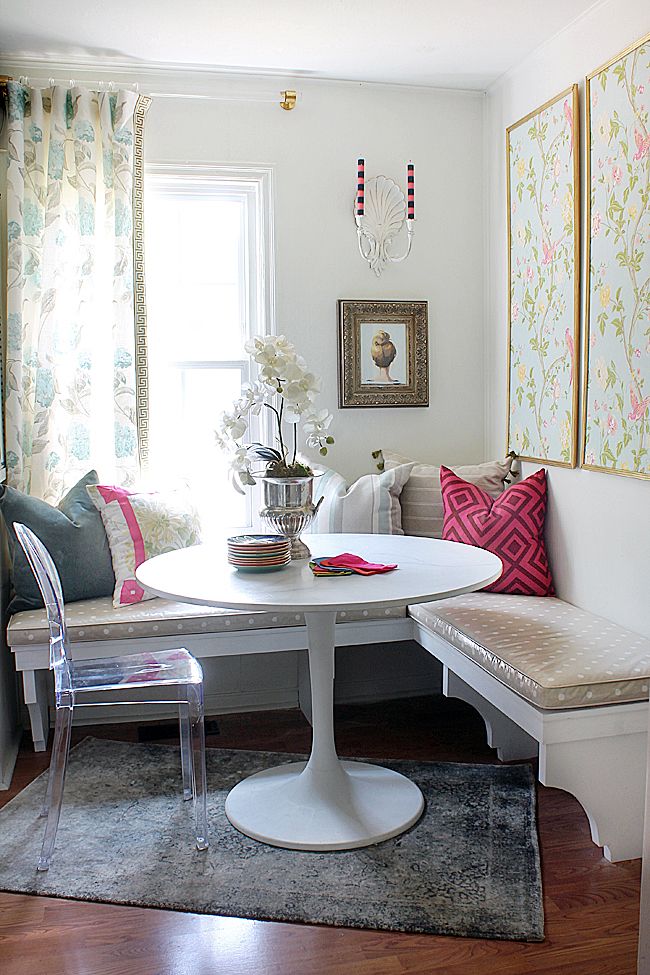 When creating this banquette, we knew we wanted something open & airy below as to not close off our tiny kitchen, as well as provide adequate air flow beneath as the vent lives there as well. I choose a classic profile for the leg & went from there.
MATERIALS
Legs
8 – 3/4″ Sanded Plywood Panels cut to 17″x18″
Top
2 – 3/4″ Sanded Plywood Panel cut to 20″ deep x length of banquette
Cleat
1 – 1x4x6 Board
Trim
2 – 1x3x6 Boards
Wood Glue
Wood Filler
Sand Paper
Screws
Drill
Primer
Paint
Paint Brushes
INSTRUCTIONS
It sounds (& looks) more complicated than it really is. We knocked this out in a day & a half including an extra trip to the store & paint dry time. If you utilize your big box store to make your larger cuts, you are already halfway there. You could also choose a simpler leg profile if you don't feel as comfortable with the JigSaw. In order for our bench to sit flush against our wall, we did take our
Multi Tool
(using the saw blade) to notch out a small segment of our baseboards where each of the legs were. This allowed us to slide the unit into place & attach to the wall.
Knowing my weakness is sewing, I sent my cushions off to the upholsterer to be made. We had two Box Cushions made (with Piping) using 2″ thick foam. This puts the overall seat height at around 19.5″. Which is a very comfortable height (especially since we are a tall family.)