My Go To Garden
macho fern // dichondra //boxwood // creeping jenny // wave petunias // arborvitae
Each year, we buy new plants to spruce up our space but one way or another each of these vairities always end up in our yard. So apparently they are my Go To Garden. If I had my way I would live in an English topiary garden with all the formality. Sadly, we do not. But I like to replicate the feel into our own space using tailored boxwoods & tall thin trees. Lush trailing plants that cascade over the edges of urns are my absolute favorite. Dichondra is this teeny little plant, that once planted just grows & grows & grows! By the end of the summer it is perfection! & don't tell anyone… but sometimes I magically get it to grow back the next year! Don't ask me how though. Another favorite spiller (that looks great with the Dichondra) are the Wave Petunias. They come in almost every color & again just spill over the edges of your containers. You'll know they are Wave Petunias by the Pink container they come in.
I did however go wild this year & picked up two braided Hibiscus Trees that are gorgeous!!!! Again, I think I was drawn to the lollipop shape. But the added pop of color is great. Fingers crossed I don't kill them.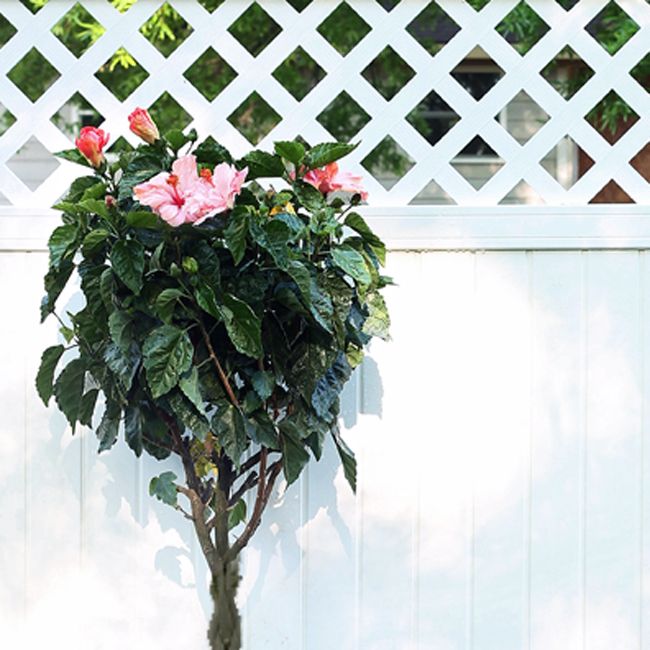 Luckily, these are all available at your local Home Depot Garden Department & if you sign up for their
Garden Club
you can save some $$ too.
Remember that I will be at the Atlanta Midtown Home Depot hosting my Garden Party this Saturday & would love for you all to come!!!! Here are the specifics again.
The Specifics
date
April 26th
time
1pm – 4pm
where
The Home Depot // 650 Ponce De Leon Ave NE Atlanta, Georgia 30308
x o – Kristin
This is a Sponsored Post by the Home Depot