Foraged Flowers – Flower Arranging Made Easy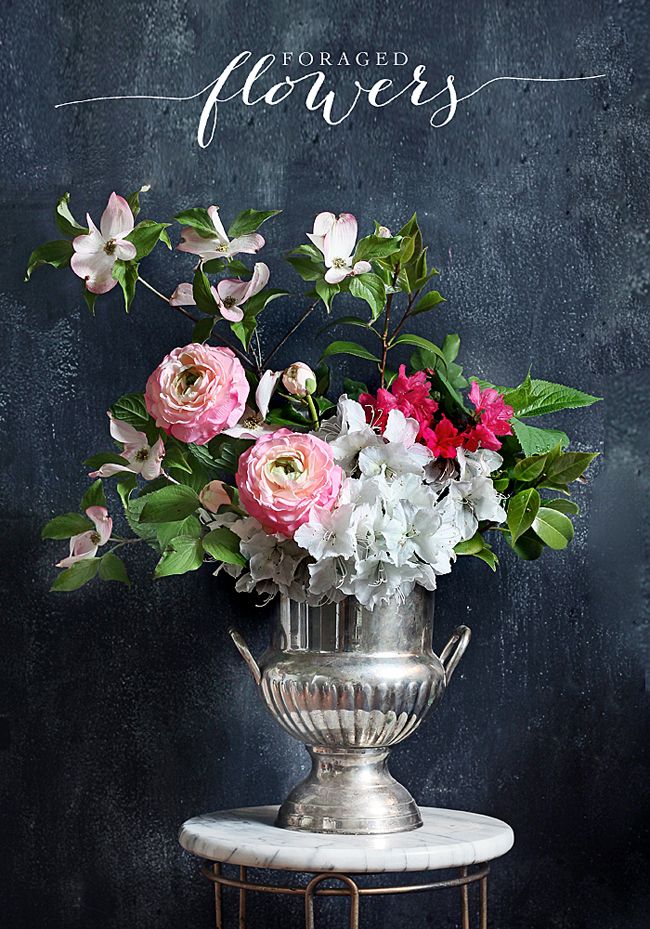 My favorite new trend is in floral decor. Wildly gorgeous full floral arrangements, literally dripping with foliage. You've all seen them around as of late. And I even shared a How To link last week from
Mandy | Waiting on Martha
on
Lindsey Coletta's
work. Lindsey shared some tips & tricks in the post that were truly helpful.
Knowing I have a few shoots & events of my own coming up, I decided to jump on board & tackle my first foraged arrangement. I went into the yard, sharp scissors in hand & simply snipped off whatever I found to be attractive. I would love to tell you exactly what I used… but I have no idea. We inherited most of these plants. I know there is some Azalea & Dogwood in there!
My favorite tip is to use a wide mouthed vessel. I used my MIL's silver ice bucket. Which just so happens to be my favorite vase, well, ever. The beauty of these arrangements is to pack them full of flowers & foliage to be able to create that lush look.
If I were to purchase this from a Florist, the price would be up there. This beauty was completely found & free! But, I think it looks like a million bucks. How great would an arrangement like this be for your next hostess gift or Mother's Day!?!!!
I hope you all are having a fabulous week!!!
x o – Kristin