My New Workspace… a Work in Progress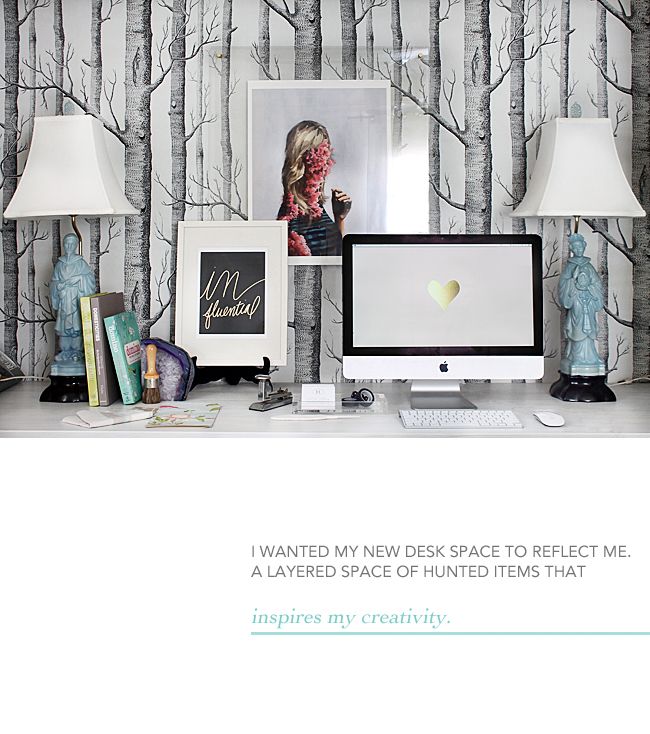 While not nearly completed… I must say that I am feeling more & more inspired in my private space. After taking over Chloe's old room as our office/guest room, which was not the original plan, I have been blessed with a great opportunity. The ability to shut the door (when Pop Pop or Dad is here), spread out my work & actually feel as though I can get something accomplished. A true gift for this busy, working, stay at home mom.
One of my favorite elements in my new space & something that I am so thankful for, is the
Cole & Sons Woods wallpapered closet
& long Ikea Countertop. As you might recall, this used to be Chloe's closet & changing table when she was a baby. I purposefully choose more sophisticated finishes, knowing that this space would not be a nursery for long. It's important to choose items that will go the distance in a child's space. The
wallpaper
was a splurge four years ago & I am still loving it today. Phew… the hubs is thankful for it's longevity too.
I was originally going to bring in my old desk/hutch, but when we realized the counter was the perfect height & all of the counter space I was gaining, it was a no brainer to keep the existing top. Seriously… this desk top is almost twice the amount of counter space of our entire kitchen counters! A luxury in my book.
I brought in two of my favorite, new to me, Chinoiserie chic lamps that were given to me nearly a year ago by a friend. They have been hiding in storage for way too long & I was thrilled to be able to incorporate them into my new space.
A few gathered accessories & desk necessities later this space really feels like home to me. It's important to bring together items you love for an inspiring space. They don't have to "go together" to go together.
I hope you all have had a stellar week! & by the way, if your name is Kara, you should definitely check your inbox! You won the Waiting on Martha Giveaway doll!!
x o – Kristin