A Giveaway Like NO Other!
Over the past few weeks there has been a lot of discussion over
art
&
gallery walls
. I adore art. In all forms and styles. My appreciation for the beauty and the time that is put into each piece is only enhanced by my efforts in my own projects. Art can enhance any space and can easily transcend decor styles to fit in to any room.
Erin Hanson
is not only my latest sponsor, but she is also an incredibly talented & well respected artist. She specializes in abstracted landscapes that seem to take on a life of their own. These oil paintings are created using an impasto application creating depth and texture to each stroke.
Her use of vivid colors and plays on light give each piece a glowing quality. These are definite statement pieces.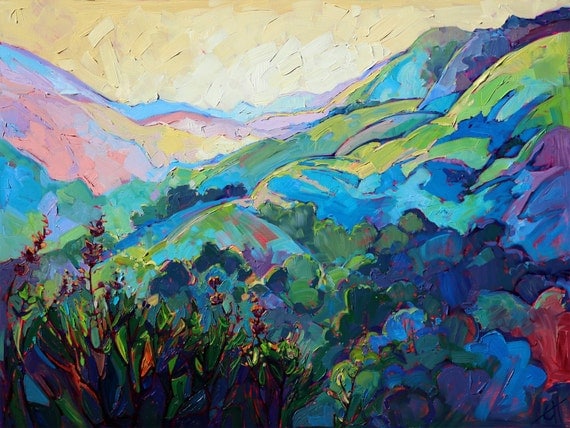 I had the opportunity to experience Erin Hanson's work first hand as I was sent this amazing piece of art (on loan). I fell in love with the landscape on the computer screen but was literally taken aback at the beauty in person…
Reluctantly mine is all wrapped up, but now you have the unique opportunity to have one of your own. And not just any of
Erin's paintings
, oh no.
Erin
has offered to give one of my readers a custom landscape of their very own! With her paintings ranging from $2000 – $8000 this would certainly be an amazing addition to anyone's art collection… & what a starter piece if you are just beginning your collection!
This giveaway is lasting for an entire month so you can find your perfect landscape and get the images to us. At the end of the month,
Erin
& I will select the winner based on all of the above criteria.
*This Giveaway is Limited to the United States only*