Chandeliers in the Bedroom & a WINNER
Living in the south, it is almost a necessity to have the dreaded ceiling fan in the bedroom… especially in my home. So while I dream of having some glamorous Chandelier in my space (it really would look amazing), it will remain simply that, a dream. But since I have free reign for the
Room Service Atlanta
Project I went for it! I mean, what girl doesn't appreciate a little sparkle in a space.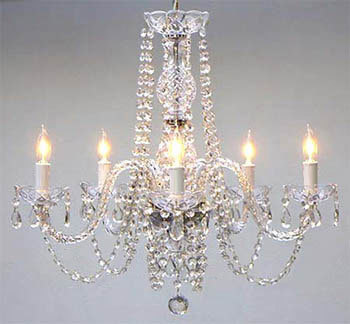 Thanks to all the donations I was able to splurge just a little (this is a really budget friendly chandy) to make this space extra special. I found it on
eBay
& was completely thrilled with the Customer Service after a few of the pieces arrived broken. Within a few days all of the parts were replaced. I am so glad I decided to assemble it before we got to the space… otherwise I would have been in panic mode for sure. After all the painting is done (there is soooo much painting!) this pretty lady will be installed. So much better than a plastic fluorescent box right?!
To confirm my vision, I found a few inspiration shots. Like I really needed confirmation to add crystals!
via ELLE Decor
Now all these rooms are pretty neutral (mine on the other hand is NOT!) I still think a punch of crystal works in any space. Can't wait to get it up!
Now onto the pressing matter at hand… did you win the Schumacher Pillow Giveaway from
California Livin Home
?!?!

Well if your Janna from Swoon Interiors you did!!!
Congrats Janna! You already have an email in your inbox waiting for you.
Also, check out a little tutorial from the Patio Project (that will be revealed so so soon!)