One of the most asked questions I get as a designer is "How to I decorate around my TV?" It is difficult. It is typically the center of your Living Room & the focus of attention. Dressing the area around your technology is a must when looking to create a cohesive feel rather than simply having a TV on your wall.
Verizon© FiOS
has found the perfect solution for this design dilemma… #Techoration. Genius.
My favorite way to address a TV, or Techorate, in any space is to incorporate it into it's surroundings. Either a surrounding Gallery Wall, or by simply flanking the screen with beautiful sconces like I have done in our own home. When looking for inspiration on styling a TV console I tend to research images incorporating a mirror over a console. Because in theory, it is a similar feel. A large focal point with accessories around it. Looking at addressing your TV in this manner helps to relieve the pressure.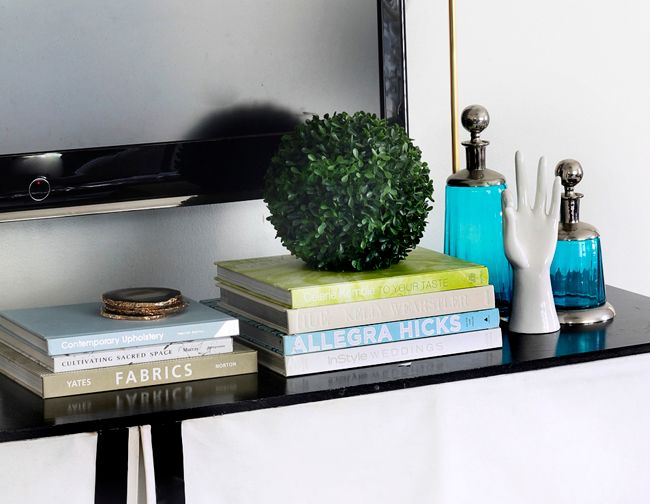 Just because your TV is on the wall or on a console, does not mean you cannot layer items in front of it. As long as the items to do not obstruct your view of the screen or block any of the sensors, I highly recommend letting your accessories overlap. It softens the edges & takes away from the feeling of simply having a giant black box in the space.
Whether moving into a new home or simply addressing your current situation, take the time to layout your equipment in the correct spot for your space. Installing your TV on the wall & hiding the wires behind the wall, really upgrades the look & by incorporating a console with drawers or a skirt like ours, you can easily conceal all of the necessary equipment.
The same goes for your office. Whether using a Desktop or Laptop, you are still left with the problem of decorating around another screen…
I like to add a desktop wallpaper that enhances the decor around it. There are so many beautiful options to download, that your possibilities are virtually endless. Surrounding the space with artwork & beautiful desk accessories again draws your eyes around the space. This allows the computer screen to be a part of the space not the focus.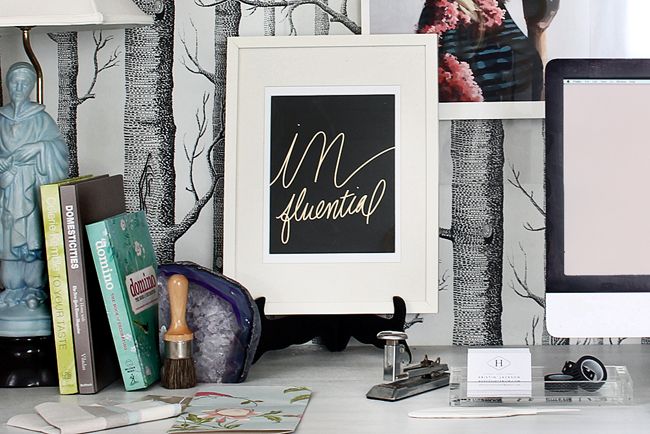 Don't forget to check out the #Techoration inspiration hub by Verizon© FiOS (
link here
), where you can find more techorating inspiration, get moving tips & tricks, and enter the
Upgrade Your Move contest
. Just fill out the entry form and pin your dream #Techoration set-up for a chance to win a $4,500 Visa® prepaid gift card! (And I get to help pick who wins!)

*This is a Sponsored Post by Verizon FiOS, but all advice and images are my own.