Creating a Thanksgiving Tablescape in our home is quite honestly a waste of time. I could create the most beautiful centerpiece, but it would be removed in order for the real centerpiece to appear… the food. We are a foodie family. The hubs has been in the restaurant industry for, well, ever. And lucky for me he is usually the chef in the house. Bringing all of our family traditions to the table, especially our Italian dressing injected fried turkey (oh it's good!) are more important to our family than a pretty centerpiece. That being said, there is no way I could just throw some paper plates on the table & call it a day! Thought does go into each of the place settings.
This year I took some of those inexpensive plastic chargers you can find at any craft or party store & painted the center with leftover chalkboard paint. It's the year of the chalkboard in our home, so we are just going to roll with it. I added a simple "Thanks" to mine, but these could easily be names, things you are thankful for, etc… Instead of using chalk, I used a white colored pencil to create a more delicate appearance.
For my fancy fabric napkins, I used scrap fabric I cut into 20″ squares. And yes, these are not your traditional colors, but who says there can't be a little fun color injected to your Turkey Day? In our home anything goes!
We also have a new tradition this year on our Menu. Besides being delicious, it is so easy to make and pretty impressive on the presentation front.
Butternut Squash Soup in Mini Bread Bowls
(from a box…shhhh)
We are having a little Semi Homemade moment here at The Hunted Interior, but no one has to know! I will keep your secret if you'll keep mine. Here is the breakdown…
Simply pour your boxed soup (any brand is fine) into a large pot & warm according to the directions on the box. Add in your Brandy & Nutmeg (both optional… but oh so tasty.) And season with salt & pepper to taste. That's it. You could be done there, but we are getting a little more detailed with ours.
We dice up some butternut squash (or sweet potatoes… those Butternuts are a pill to cut!) coat them in a little olive oil, salt & pepper & bake until golden brown & crispy. Same thing with the candied bacon. A small dice, a pan & some brown sugar sprinkled on top. We use a spicy brown sugar rub that if I shared… I might be killed.
The hubs also fried up some crispy sage leaves to top them off… he's so fancy.
We buy our mini sourdough bread bowls at our local Panera. But any bakery should have something comparable.
A big Thank You to Tracie & KariAnne for sharing their inspirations as well. If you missed either please follow the links below.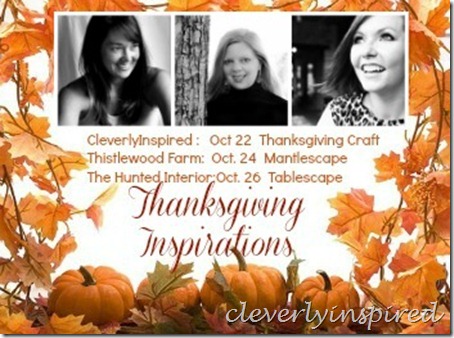 xo-